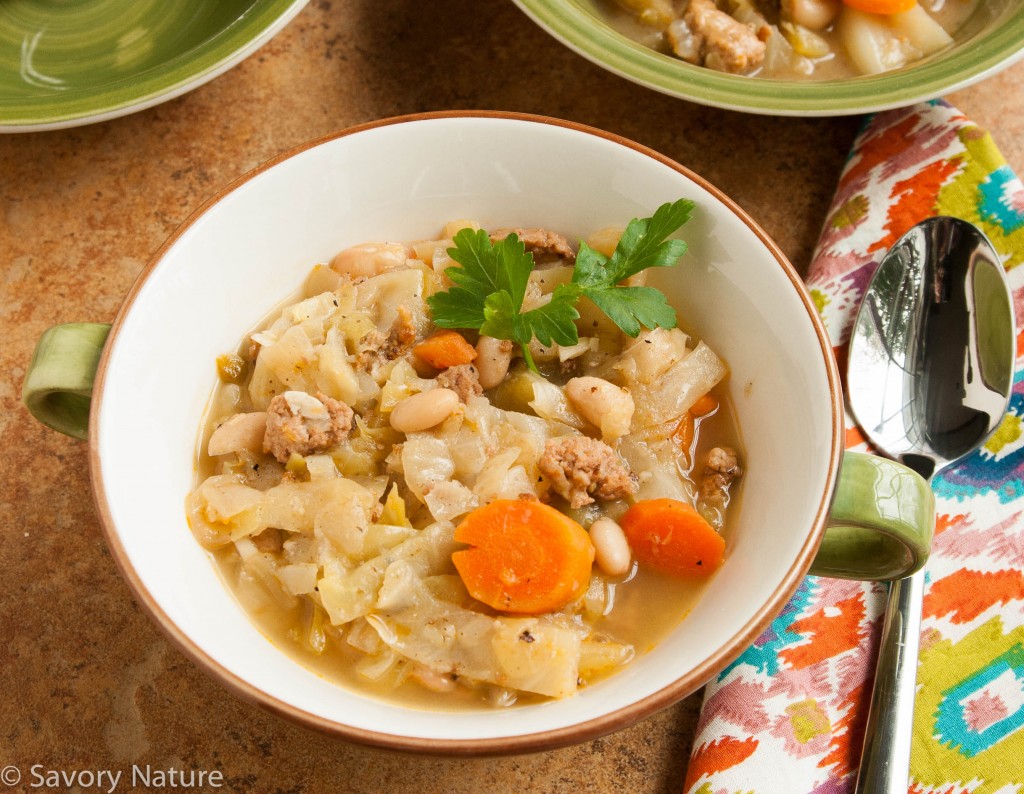 We're getting to the end of that soup/stew time of year, but there will still be a few days that beckon for the comfort of a warm bowl of meat and veggies swimming in a flavorful broth. This Cabbage Soup with Turkey Sausage fits that bill. It's fairly quick-cooking as stews go, and it is a stew-ish soup, but it develops such full flavor in a short amount of time. Carrots lend a touch of sweetness and northern beans with their liquid make it filling.
Hubby and I developed the recipe together. It was inspired by a Simply Recipes post – love that blog! I argued for more liquid, hubby for less – I let him have his way and I have to say he was right. It was stew-like and delicious – more liquid would just have diluted the goodness.
This Cabbage Soup uses half a large cabbage. We used the other half to make a slaw for fish tacos – just an idea.
This recipe makes a generous amount. The leftovers are perfect for microwave lunches or quick suppers. Like many soups and stews, it seems to taste even better the second time around!
Warm up to this easy, so pleasing, Cabbage Soup with Turkey Sausage!

Cabbage Soup with Turkey Sausage
Ingredients
1 lb hot Italian turkey sausage
3 Tbsp olive oil, divided
1 medium onion, peeled and chopped
3 carrots, peeled and chopped
2 cloves garlic, minced
1 cup dry white wine
½ tsp fennel seed ground
½ tsp salt
freshly ground black pepper to taste
2 cups chicken stock
15.5 oz can northern beans with their juice
½ of a large head of cabbage, cored and chopped
A few torn leaves of parsley for garnish if desired.
Instructions
Heat 1 ½ Tbsp oil in a large, straight-sided skillet (or large pot if you don't have a big enough skillet to fit everything).
Squeeze sausage out of casings into pan and stir, breaking it up until browned.
Remove sausage to a bowl.
Add remaining 1 ½ Tbsp oil to pan and add onion and carrot.
Saute until softened, about 5 minutes.
Add garlic and stir about 30 seconds until aroma comes.
Add wine, ground fennel seed, salt and black pepper.
Bring to a boil, while scraping bottom of pan with a wooden spatula to release browned bits.
Simmer about 5 minutes until wine is reduced by about half.
Add chicken stock, beans with their liquid, and cooked sausage, and stir.
Add cabbage on top.
Cover and simmer 35 minutes.
Cabbage will not be totally immersed but will steam in pan.
Ladle into shallow bowls, garnish with parsley if desired, and serve.