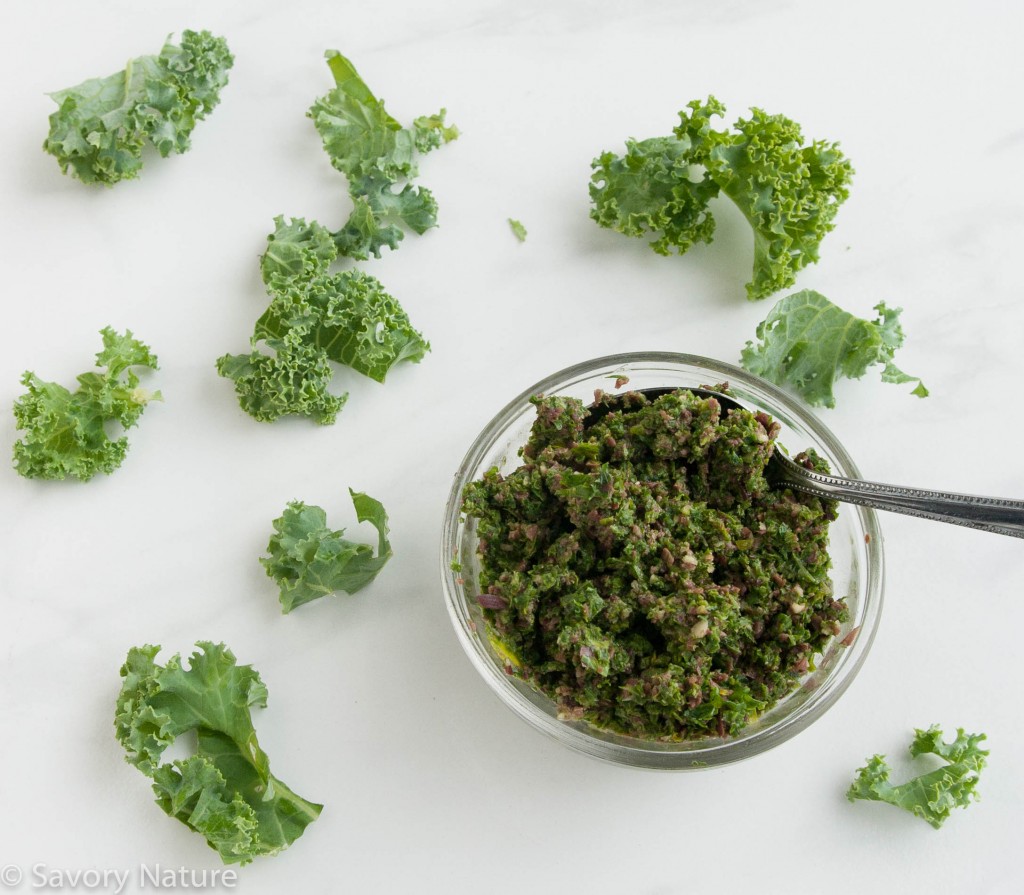 Who doesn't love pesto? You take something fresh and green, and combine it with some tasty, healthy sources of fat, and maybe some garlic for zing, and you get this ethereal spread that's got so many uses!
Kale may not be the first green you think of when you think pesto, but think again! It's delicious and of course so good for you, too!
In our house we've got some dairy and nut sensitivities, so I decided to use Kalamata olives as my fatty component along with some extra virgin olive oil. Well, it was so good – I think the olives stand up better to the slightly bitter taste of the kale than nuts would.
Wondering what you would do with this? Thinned with a little pasta water, it could make a great sauce for pasta, or mix it with some sautéed vegetables, or spread it on a sandwich.
We used it to top some polenta round appetizers. They're a great gluten-free appetizer, and you can top them with almost anything. We did a slice of zucchini, some Kale Pesto, and either bacon-wrapped chicken bites or salami. Sounds good, doesn't it? It was in appetizer form, but we made a meal of it. Could be a great way to get kids to eat some veggies!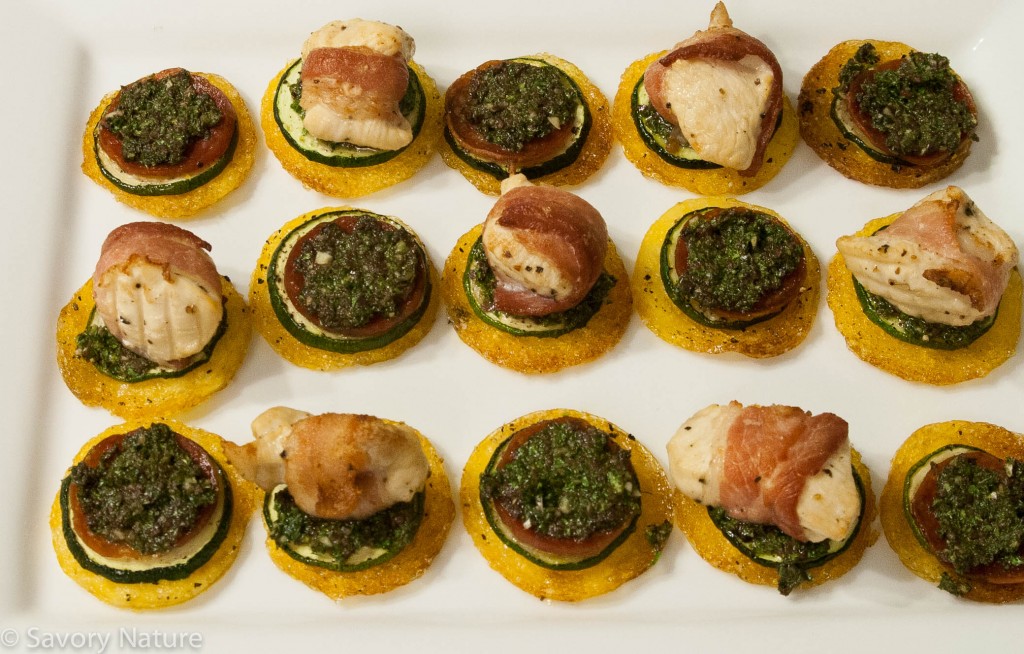 I've included both the Kale Pesto recipe and the recipe for the Polenta Appetizers below. The Polenta Appetizer recipe is more of a guideline than a formal recipe – there are all sorts of variations you could do. We did some with bacon-wrapped chicken and some with salami. I could see a piece of prosciutto working, too, or just do them vegetarian with the zucchini slice and Kale Pesto. If you're intrigued by the polenta appetizer idea, check out this post for some other great toppings, too.

Kale Pesto and What to Do with It!
Ingredients
1 bunch kale, coarse stems removed, and roughly chopped (you should get about 4 cups packed)
½ cup Kalamata olives
¼ cup extra virgin olive oil
¼ tsp salt
Freshly ground black pepper to taste
4 cloves of garlic, peeled
Instructions
Place all ingredients in a processor and pulse scraping down bowl as necessary until a coarse paste is formed.
Polenta Appetizers with Kale Pesto and Other Stuff!
Ingredients
A roughly 1 lb. tube of polenta
3 Tbsp cooking oil
1 zucchini
Hard salami or pepperoni and/or chicken breast and bacon
Kale Pesto
Instructions
Place a sheet pan in oven and preheat to 425 degrees F.
Slice polenta into about ⅛ inch thick round slices.
Spread about 3 Tbsp oil over hot sheet pan and lay out polenta slices on pan.
Bake about 20-25 minutes until lightly browned on bottoms.
Meanwhile slice zucchini into ⅛ inch thick rounds.
Slice salami or pepperoni thinly if using.
Cut chicken breast into about ¾ inch cubes.
Wrap pieces of bacon strips around chicken cubes and secure with toothpicks.
Place bacon-wrapped chicken pieces on a rack in a foil-lined sheet pan.
After 20-25 minutes baking, flip polenta rounds over and put zucchini rounds on them and then salami or pepperoni if using. (If you plan to top them with the bacon-wrapped chicken, then no salami or pepperoni – just the zucchini.)
Return topped polenta rounds to oven and put in bacon wrapped chicken as well on a separate rack.
Bake for about another 20 minutes until chicken/bacon are cooked and polenta is lightly crisped.
Remove sheet pans and set oven to low broil.
Spread Kale Pesto on polenta appetizers.
If you're doing the bacon-wrapped chicken, remove toothpicks and place one piece on top of pesto on each polenta round.
Put polenta rounds back in oven about 8 inches from broiler and broil a few minutes, just so everything is hot. Watch them carefully to make sure they don't burn.
Serve immediately.