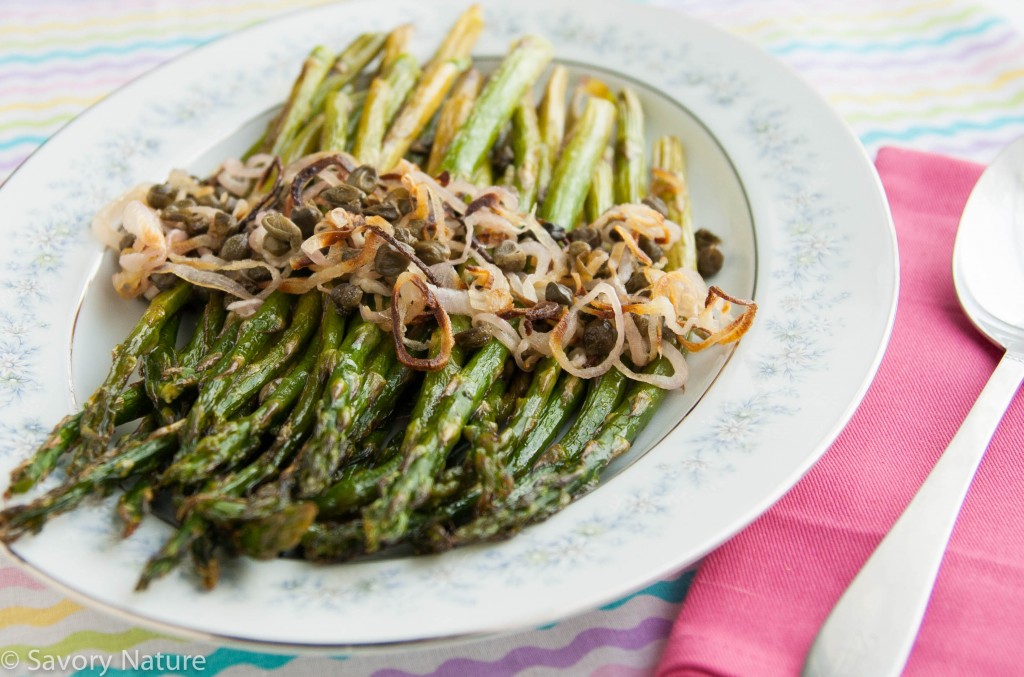 Roasting is such a great way to cook asparagus. It's super easy and really brings out its earthy flavor.
In this Roasted Asparagus recipe, sliced shallots and capers roast along with the asparagus for part of the time – so easy! Only one pan and it's lined with foil for easy clean-up. The shallots and capers caramelize and make the perfect topping for the tender roasted asparagus.
The only other seasoning is salt, sprinkled over the asparagus before roasting. Easy recipe – simple, complementary flavors – pretty presentation – this Roasted Asparagus with Shallots and Capers recipe is perfect for Easter dinner or any spring occasion.
My daughter's not an asparagus fan, but even she really liked this recipe!

Roasted Asparagus with Shallots and Capers
Ingredients
1 bunch asparagus – about 1 lb.
1 medium shallot
2 Tbsp capers, drained
1 ½ Tbsp extra virgin olive oil, divided
Salt to taste
Instructions
Preheat oven to 400 degrees F.
Wash, snap tough ends off asparagus spears and pat dry with paper towels.
Line a sheet pan with foil, place asparagus on foil and drizzle with 1 Tbsp olive oil.
With your hands, toss asparagus until it's evenly coated with oil and spread over pan, leaving space at one end for shallots/capers.
Sprinkle salt all over asparagus.
Roast asparagus 10 minutes.
Meanwhile, slice shallot thinly.
Separate shallot slices into rings into a small bowl.
Add drained capers to bowl and remaining ½ Tbsp olive oil.
Stir to coat.
After asparagus has roasted 10 minutes, spread shallots and capers on open area of foil-lined sheet pan.
Rotate pan from original orientation and roast about 10 more minutes until asparagus tips are starting to brown, spears are fork tender, and shallots are starting to brown as well. (Every oven is different so roasting time is give or take 5 minutes.)
To serve place spears on a platter, and top with shallot/caper mixture.