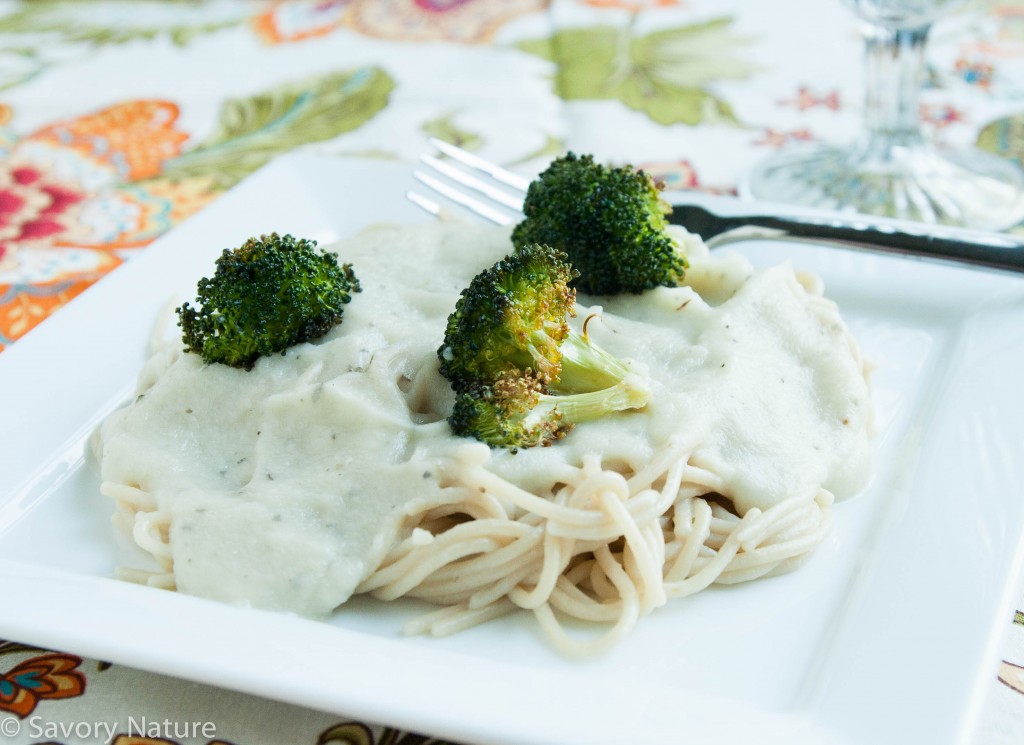 Who says you can't have a creamy, satisfying vegan pasta sauce without cheese or milk? Cauliflower adds a real depth to this sauce and it's so good for you, too!
My husband sent me the recipe from which this was derived. It's by Raven Ishak from Brit + Co. She had the wonderful idea of using cauliflower to make a healthier Al Fredo type sauce. She used milk in hers with optional cheese. As we have a dairy-sensitive daughter, I thought why not take it a step further and eliminate the dairy all together.
It came together wonderfully. We added some herbs just to up the flavor interest and topped it with roasted broccoli. It's a veritable cruciferous vegetable feast! Roasting really gives the broccoli a great tender crisp texture and nutty taste, and it's the perfect accent for the dish.
This Vegan Pasta with Cauliflower Cream Sauce is an easy satisfying recipe that's perfect for anyone who wants good taste and is trying to eat healthy.

Vegan Pasta with Cauliflower Cream Sauce
Ingredients
1 head of cauliflower
2 Tablespoons dairy-free margarine
3 large cloves garlic, minced
1 teaspoon salt
freshly ground black pepper to taste
½ tsp dried oregano
½ tsp dried sage
½ cup coconut milk beverage (the kind that comes in a carton, not coconut milk in a can)
1 cup water from cooking cauliflower
2 large crowns of broccoli
2 Tbsp olive oil
12–16 oz gluten-free pasta
Instructions
Preheat oven to 425 degrees F.
Chop broccoli crowns into florets.
Line a sheet pan with aluminum foil. Add broccoli florets, drizzle with 2 Tbsp olive oil and toss to coat.
Roast broccoli at 425 F for 20 minutes until just starting to brown.
Meanwhile, core and chop cauliflower roughly.
Heat a large pot of water to boil.
Add cauliflower and boil about 8 minutes until fork tender. Reserve 1 cup of the cooking liquid and drain.
Meanwhile, melt the margarine in a skillet and sauté minced garlic about 30 seconds until aroma comes.
Add cooked cauliflower, sautéed garlic, salt, black pepper, oregano, sage, coconut milk beverage and 1 cup cauliflower cooking liquid to a food processor or blender and process until smooth. You may add a little more coconut milk beverage if the sauce seems too thick.
Cook gluten-free pasta according to package directions.
Cauliflower sauce may be microwaved to rewarm.
Mix pasta and sauce and top with roasted broccoli.