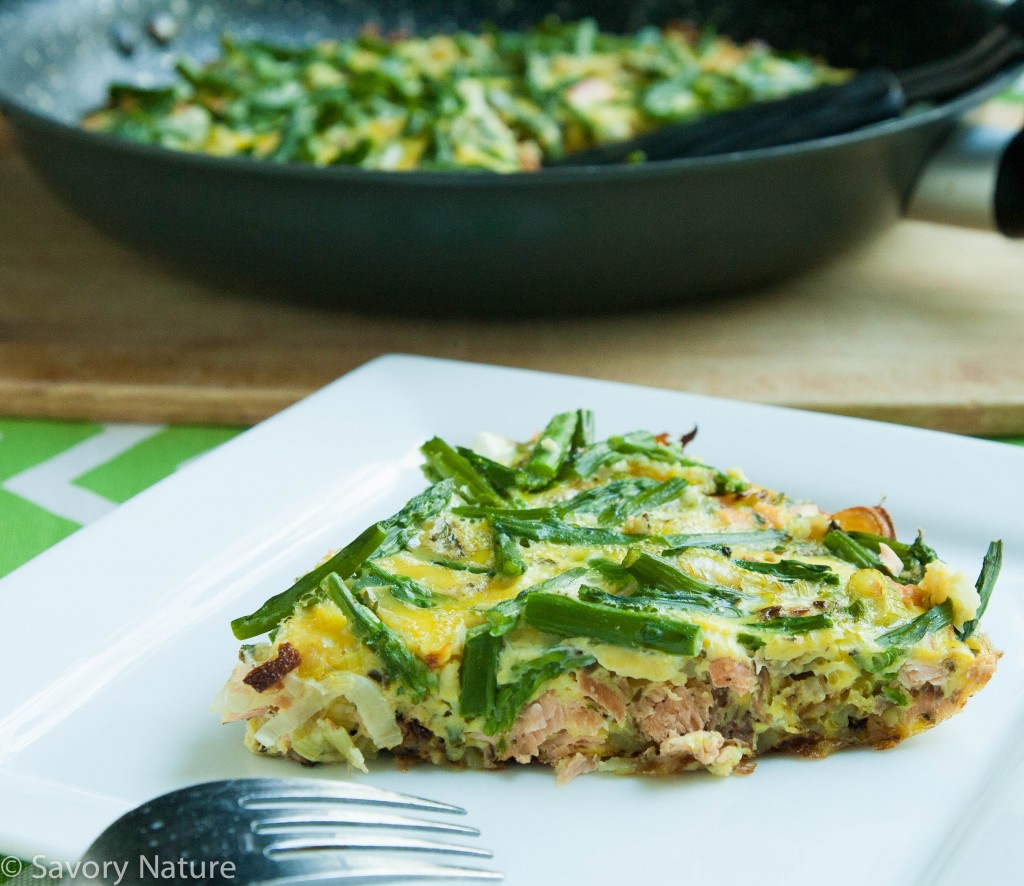 Asparagus is in season for just a little while and I like to make the most of it. This one-dish Salmon and Asparagus Frittata is an innovative way to incorporate asparagus into a satisfying healthy meal.
This Salmon and Asparagus recipe has so much going on nutritionally. It's plenty filling with its hash browns base, loaded with protein and veggies, and the omega-3's in the salmon are so good for you!
It tastes so good, too! The tarragon and Dijon mustard are subtle, but so pleasant. My kids initially thought this was a weird idea, but they both really liked it.
Everything gets cooked in the same pan so minimal mess, except the salmon which bakes on a sheet pan. Line it with foil and you'll have little clean-up there.
Serve this with a green salad and you've got the perfect springtime supper!

Salmon and Asparagus Frittata
Ingredients
½ lb asparagus (about half a bunch)
12-14 oz of salmon fillet
3 ½ Tbsp olive oil divided
2 medium spring onions, most of green tops discarded (or 1 medium onion), sliced thinly
¾ lb potatoes, peeled and shredded
6 eggs
½ tsp salt
freshly ground pepper
½ tsp dried tarragon
1 tsp Dijon mustard
Instructions
Preheat oven to 350 degrees F.
Snap tough ends of asparagus off and chop asparagus into 1 inch pieces.
Put about an inch of water in a large non-stick skillet and bring to a boil.
Add asparagus to skillet and boil 2 minutes.
Drain asparagus in a colander, and run under cold water for about 30 seconds to a minute to stop cooking.
Place salmon fillet on a foil-lined sheet pan, skin-side down.
Sprinkle with salt and pepper and bake 10 minutes, then let cool.
Rinse skillet and wipe dry.
Saute onions in 1 ½ Tbsp oil in skillet a few minutes until just starting to brown.
Remove to a bowl.
Heat 2 Tbsp oil over medium high heat in skillet, add shredded potatoes, and toss to coat.
Spread potatoes in an even layer over pan, pressing down a bit.
Cook about 5 minutes until browned on bottom.
Flip and cook about another 3 minutes until browned on other side.
Whisk eggs and remaining ingredients.
Remove skin from salmon and flake salmon with your fingers into bite-sized pieces.
Layer potatoes, then salmon, then onion, then asparagus.
Pour egg mixture over.
Bake at 350 degrees F about 25 minutes until eggs are set.