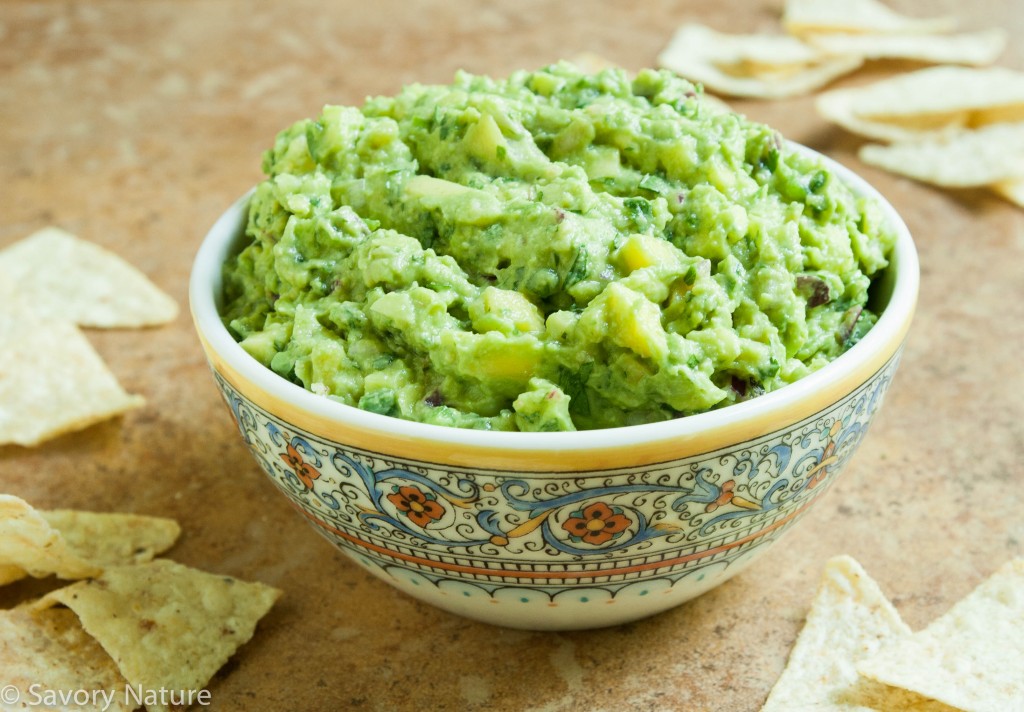 In honor of Cinco de Mayo, here is a super kicked-up guacamole with mango and shrimp. Classic guacamole is great, but there are so many variations you can do on it and this is my favorite. I was first served this guacamole by an ex-boyfriend of my daughter's and was WOWed by it! I could have had just that for dinner, it was so good! We won't mention him by name since he's an ex, but I believe I have recreated that wonderful guacamole he served.
Using cooked salad shrimp makes the preparation easy. Just a bit of chopping and mashing and you're there. Having a Cinco de Mayo party? Serve this guacamole with mango and shrimp and you'll have some very happy guests and lots of accolades!

Guacamole with Mango and Shrimp
Ingredients
4 ripe medium avocados
1 ripe mango
One 4 oz bag of cooked salad shrimp
⅓ cup of diced red onion
2 Serrano peppers
½ bunch of cilantro (about ⅓ cup chopped)
Juice of 1 lime
½ tsp salt
1 tsp ground cumin seed
Instructions
Slice avocados in half around the center pit, rotate and pull apart halves.
Remove pits and scoop out avocado into a large bowl and mash with a fork or potato masher.
Peel mango and chop finely.
Blot salad shrimp dry with paper towels and chop finely.
Remove seeds and membranes from Serrano peppers and dice finely.
Chop cilantro finely.
Mix all ingredients well and serve with tortilla chips.