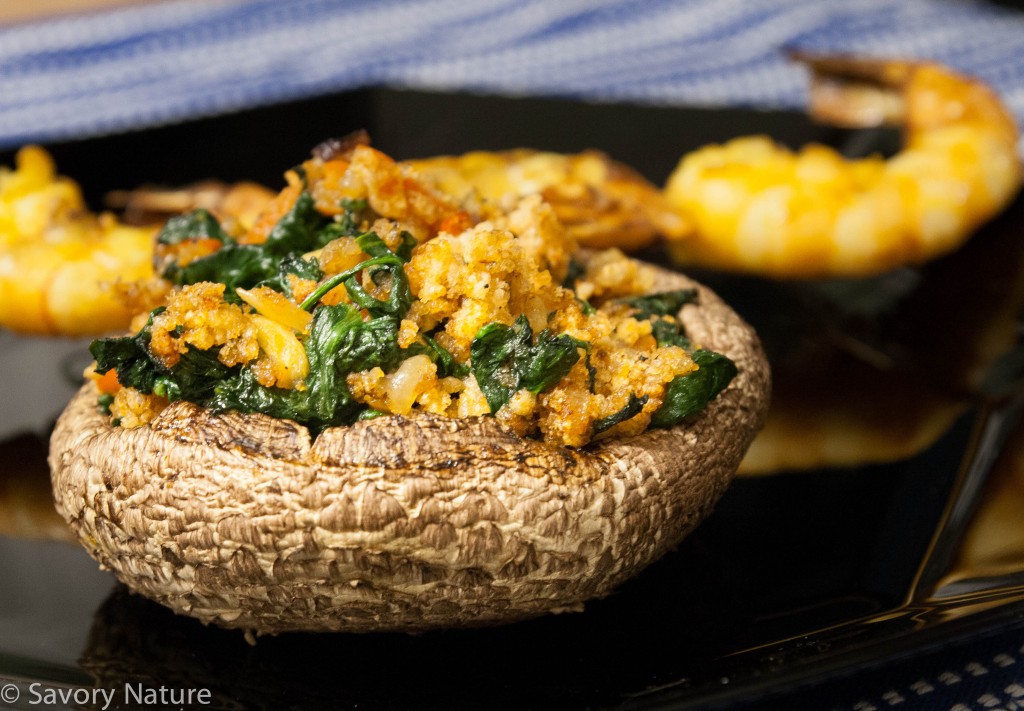 You might think of stuffed mushrooms as an appetizer, but Stuffed Portobello Mushrooms make a substantial side dish or even vegetarian entrée.
These Portobellos are scooped out and drizzled with balsamic vinegar and allowed to marinate a half hour to absorb that wonderful balsamic flavor. Meanwhile spinach, garlic, and then onion, red bell pepper, celery, apple, and the chopped mushroom stems are sautéed. Finally gluten free breadcrumbs are added and lightly toasted. A little smoked hot paprika and sage season the stuffing perfectly!
Fire up the grill and cook the mushrooms a little while on their own. Then fill with the stuffing and continue grilling to heat through.
The grilled mushrooms are moist and meaty and the stuffing is divine! We had them alongside some grilled shrimp, but you could just as easily combine them with a green salad for a hearty vegetarian meal.

Portobello Mushrooms - Stuffed and Grilled
Recipe type:
Side or Entree
Ingredients
4 Portobello mushrooms (the big ones, not the baby bellas)
Drizzle of balsamic vinegar (about 1 Tbsp per mushroom)
8 oz bag of fresh spinach
2 cloves garlic, minced
½ red bell pepper, chopped
½ medium onion or 1 small onion, peeled and chopped
½ large apple or 1 small, peeled and chopped
1 stalk celery, chopped
2 Tbsp olive oil plus more if necessary
½ tsp hot smoked paprika
1 cup gluten free breadcrumbs
1 Tbsp crushed or rubbed sage
Salt and freshly ground black pepper
Instructions
Remove stems from mushrooms and chop and reserve stems.
Scrape out gills and discard.
Poke inside of mushroom caps with a fork , drizzle with balsamic vinegar and set aside for about a half hour.
Heat a grill on low.
Meanwhile heat 1 Tbsp olive oil in a large skillet, add spinach and wilt about 3 minutes.
Add minced garlic and a little salt and black pepper and cook about another 30 seconds until aroma comes.
Remove spinach and garlic to a cutting board.
Once cool enough, chop spinach.
Add remaining 1 Tbsp olive oil to skillet and sauté red bell pepper, onion, celery, and hot smoked paprika 2 minutes.
Add apple to skillet and sauté about another 3 minutes until vegetables are softened.
Add sage and breadcrumbs. Add a little more oil if pan is dry. Stir constantly until well-mixed and lightly toasted about 3 minutes.
Add spinach back in and stir to mix.
Place mushroom caps (not stuffed) on grill and cook cover down for 5 minutes. (If using charcoal, push coals to one side and cook on other side of grill.)
Turn mushroom caps over and grill 5 more minutes.
Stuff mushroom caps and grill about another 10 minutes until tender and stuffing is heated through.