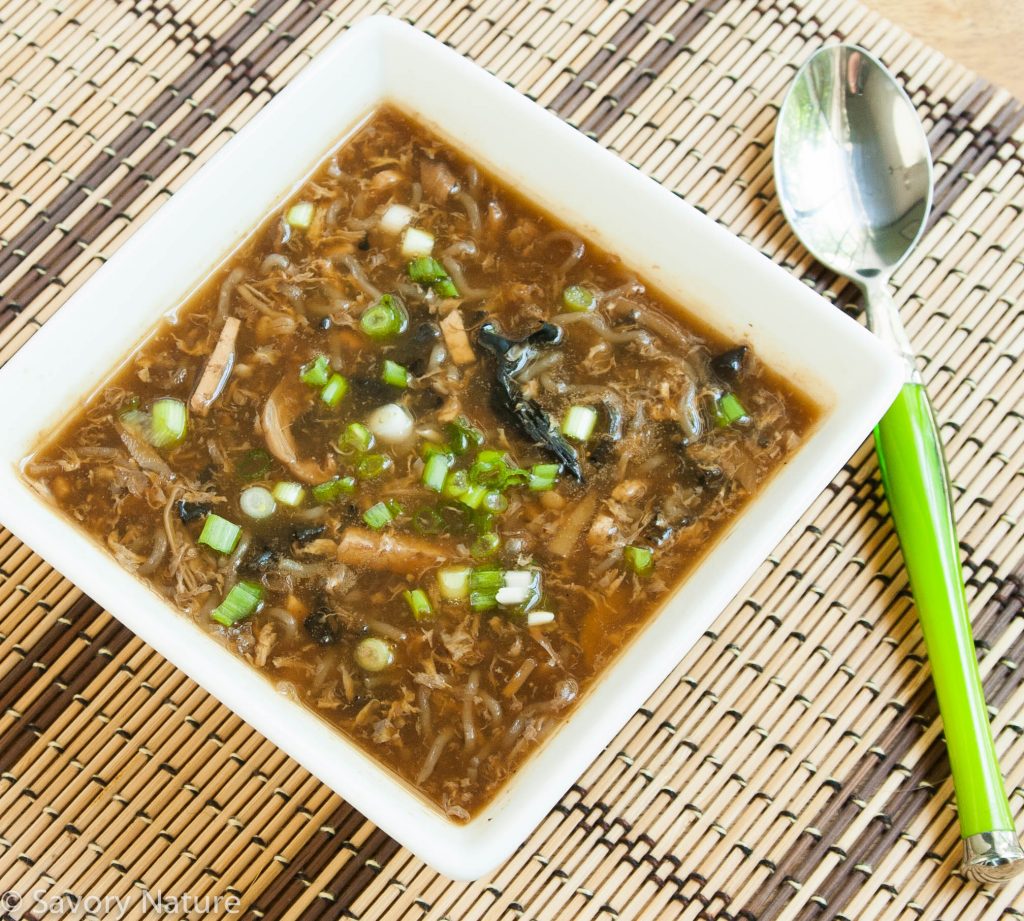 There's been a bit of a lull in my posting lately, but my husband recently proposed a vegetarian week, and after I picked myself up off the floor, I heartily agreed! He is not all that often in favor of dinners without meat.
We actually did a mostly vegetarian with a little pescatarian week and it was a boon for our creativity! We came up with the idea for this vegetarian Hot and Sour Soup on our morning walk (where a lot of our recipes are developed). "So? What should we have for dinner?"
We wanted our Hot and Sour Soup to be substantial enough for a meal rather than an appetizer, so we added some shirataki spaghetti and used lots of mushrooms. Hubby made his own vegetable stock from vegetable trimmings that he had frozen – a great use for those peels and ends. But you could use store-bought vegetable stock as well. The soaking liquid from the dried mushrooms and the balsamic vinegar make the broth especially hearty.
Other than soaking the dried mushrooms for 30 minutes, this is a fairly quick-cooking dish. Hot and sour soup has always been my favorite Chinese soup and this one was the best I've ever had!

Hot and Sour Soup - Vegetarian
Ingredients
4 cups vegetable stock
1-2 ounces mixed dried Chinese mushroom (Wood ear are traditional, we used oyster and black trumpets)
4 ounces firm tofu, cut into matchsticks
1 8 oz can bamboo shoots, cut into matchsticks
1 ounce enoki mushrooms
2 Tablespoons soy sauce
2 Tablespoons balsamic vinegar
1 Tablespoon dry sherry
1 7-8 oz package shirataki spaghetti
2 Tablespoons cornstarch mixed with 2 Tablespoons water
1 egg, beaten
Salt to taste
Finely ground white pepper, separated (¼ teaspoon per serving)
3 scallions, green parts only, sliced thinly (for garnish)
Instructions
Heat vegetable stock to near boiling. Remove two cups and soak dried mushrooms for 30 minutes.
Squeeze excess liquid from mushrooms back into stock. Strain soaking liquid back into stock through coffee filter (there can be fine grit in the mushrooms.) Place back on heat and return to boil.
Slice the mushrooms thinly.
Add tofu, reconstituted mushrooms, enoki mushrooms, bamboo shoots, and shirataki noodles to the stock. Return to boil. Stir to mix in.
Add the soy sauce, balsamic vinegar, and sherry. Stir to mix in.
Stir cornstarch slurry to thoroughly mix, then stir in. Keep stirring until slightly thickened.
While still stirring, slowly drizzle the beaten egg into the stock in a very thin stream. (It will form threads in the soup.)
To serve, place ¼ teaspoon white pepper in the bottom of each serving bowl. Ladle in the soup, and sprinkle sliced scallions on the top. Enjoy!
Notes
Preparation time includes 30 minute mushroom soaking time.