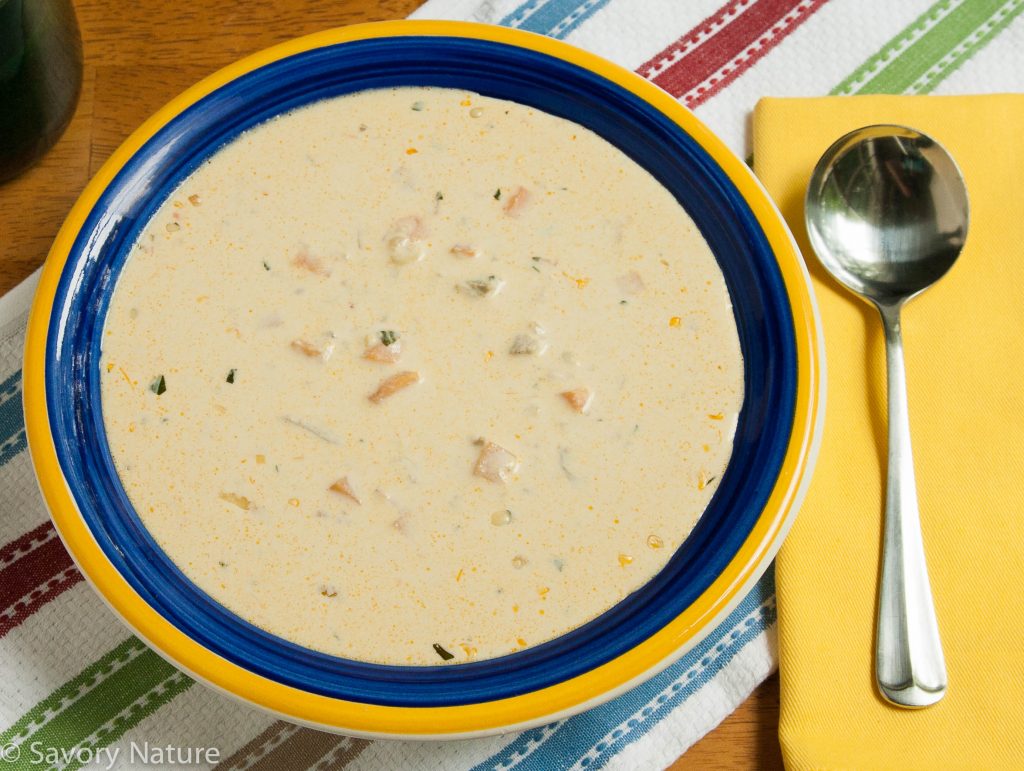 We've had a little freeing up of the allergen prohibitions in our household with our daughter moving out. Dairy is back on the table. If you're looking for a dairy-free clam chowder check out this post. This Corn and Clam Chowder, developed with my hubby, is a summertime take on clam chowder with fresh sweet corn, diced sweet potato and fresh tarragon.
I have to say the picture does not entirely do it justice. You can't tell how chock full of yummy stuff it is! It's loaded with sweet potato, clams, and corn. The half and half is so sweet, rich and creamy. And the fresh tarragon just adds the perfect subtle herbaceousness. I love when summer comes, and I have fresh herbs on the deck!
This sweet, creamy Corn and Clam Chowder makes a perfect summer supper or lunch!

Summer Clam Chowder
Ingredients
1-2 Tablespoons butter
Pinch of salt
1 medium onion, minced
1 red fresno pepper, deveined and seeded, minced
2-3 cloves garlic, crushed and finely chopped
1 medium sweet potato, peeled and diced
2 cans whole or minced clams (if whole, chop to chunks)
3 Tablespoons fresh tarragon, divided
1 quart fresh half and half
3 ears of corn, stripped
2 Tablespoons dry sherry
White pepper to taste
Instructions
Heat butter in large pot until foaming subsides.
Add onion, sweet potato, and pepper. Saute until soft.
Add garlic and ⅓ tarragon. Stir around until aromatic, about 30 seconds.
Add liquid from canned clams. Stir to combine.
Add half and half, and sherry, and simmer 10 minutes.
Add remaining tarragon, clams, corn, and white pepper to taste. Stir to combine.
Cook until heated through, about three minutes.
Serve immediately.