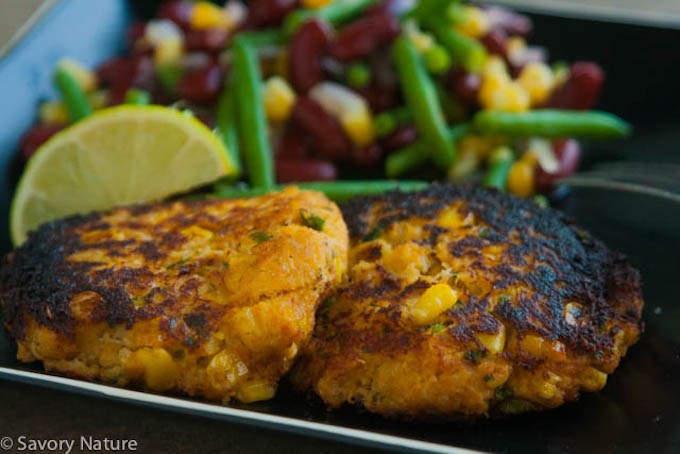 Crab cakes are one of my favorite things in the world! I'm a shellfish person in general – it's a love it or hate it kind of food – and I just love the sweet taste of crab! Crab cakes are one of the best ways to showcase that flavor. There are some tricks to great crab cakes. The seasonings should complement but not overwhelm the taste of the crab. And you need some sort of binder, but again not so much that it overrides the subtle flavor and light texture of the crab.
These Sweet Potato Crab Cakes are light, fluffy and naturally gluten free!
The standard binder for crab cakes is breadcrumbs, and I have made very good crab cakes with gluten-free bread crumbs. But I really like using sweet potato instead. It holds the crab cakes together more effectively than breadcrumbs, and gives a light fluffy texture that just melts in your mouth. And the sweet potatoes' gentle flavor and sweetness complement the crab perfectly. An added benefit – these sweet potato crab cakes are naturally gluten-free.
Complex flavors round out the crab cakes without overwhelming the crab.
A little curry powder (or cumin and coriander if you're nightshade sensitive), and fresh cilantro, green onions, and lime juice lend complexity to the sweet potato crab cakes, but they stay in the background letting the crab shine through. Corn adds a sweet pop of color and a gentle crunch.
Coat these Sweet Potato Crab Cakes in crumbs or not – either way they're great!
If you like a crunchier exterior, you can coat the sweet potato crab cakes in some gluten-free panko breadcrumbs or ground rice crackers but they really don't need it. They brown just fine without it, and without the crumbs the pretty orange color of the sweet potato shows better. The crab cakes in the picture above were not coated in crumbs.
I served these with a two bean and corn salad and some lime wedges for squeezing over the crab cakes. The meal looked as wonderful as it tasted!

Curried Sweet Potato Crab Cakes
Ingredients
1 medium sweet potato (about 14 oz)
1 egg (large or extra large)
3 green onions, chopped finely
¼ cup finely chopped fresh cilantro
½ tsp mild yellow curry powder (or ¼ tsp ground cumin seed and ¼ tsp ground coriander seed)
juice of half a lime
2 Tbsp mayonnaise
1 cup thawed frozen corn (or fresh corn kernels sautéed in oil if corn's in season)
1 lb crabmeat (use the pasteurized chilled crabmeat from the seafood department, not the kind in the canned aisle)
olive oil
Instructions
Preheat oven to 200 degrees F.
Pierce sweet potato with a fork in several spots and microwave on high for 3 minutes.
Turn over and microwave about another 3 minutes until fork tender (time will vary depending on microwave).
Cut sweet potato in half lengthwise and let cool.
In a large mixing bowl, lightly beat egg.
Add green onions, cilantro, spice(s), lime juice and mayonnaise and mix.
Scoop out sweet potato into the bowl and mash with a potato masher or fork.
Mix well.
Add corn and crabmeat and stir to mix.
Press mixture so the top is level across the bowl and make outlines down through it so it's separated into 10 uniform wedges (like slicing a pizza in 10 slices).
Heat 2 Tbsp oil over medium high heat in a large skillet.
When the oil's hot, scoop out a wedge-worth of crab mixture into your hand, form a roughly ¾ inch thick patty and place in oil.
Repeat quickly with four more patties (if your skillet is large enough – don't crowd them, just do more batches if it's smaller).
Without moving the patties, cook them about 4 minutes until they're browned on the bottom.
Gently flip them with a spatula, cover the pan and cook about 4 more minutes until browned on other side.
Remove to a platter and place in oven to keep warm.
Add 2 more Tbsp oil to the pan and repeat the process with the remaining 5 crab cakes.
Serve with lime wedges.