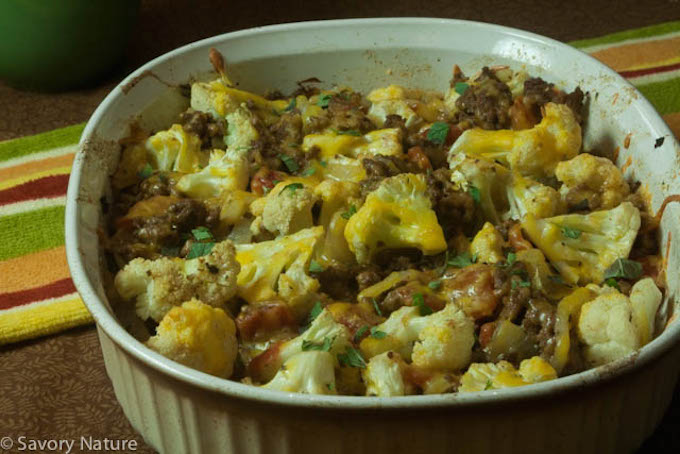 I got a head of cauliflower in my weekly produce box and wasn't quite sure what I wanted to do with it. But the cool weather had me yearning for a full meal, comforting casserole. Cauliflower does a surprisingly good job filling in for starchy ingredients in dishes. It' s low in carbs but nonetheless filling. So I tried this pasta-less take-off on goulash and it was a hit! The earthy flavor of the roasted cauliflower, along with the ground beef, tomatoes and melty cheese just say comfort food!

Cheesy Beef and Cauliflower Casserole
Ingredients
1 head cauliflower cut into bite-sized florets
1 yellow onion
1 Tbsp extra virgin olive oil
1 lb lean ground beef
½ tsp salt
Ground pepper to taste
1 tsp granulated garlic
1 tsp dried oregano
1 14 oz can no salt added diced tomatoes with their juice
¾ cup 2% milk shredded cheddar cheese
1 tsp chopped fresh oregano for garnish (optional)
Instructions
Preheat oven to 375 degrees F.
Cut the onion in half lengthwise. Then slice each half thinly so you end up with semicircular slices. Then cut the slices in half. (So you end up with 1-2 inch long pieces.)
Sauté onions in 1 Tbsp oil until soft and translucent.
Push onions to edge of pan and add ground beef plus salt through dried oregano.
Cook about 6 min. It can still be a bit pink – it will cook in the oven.
Remove from heat and mix in the tomatoes with their juice.
Toss the cauliflower with the beef mixture in a 13" x 9" casserole.
Cover with aluminum foil and bake 20 minutes.
Uncover and sprinkle with cheese.
Bake another 15 minutes, uncovered.
Garnish with fresh oregano if desired.