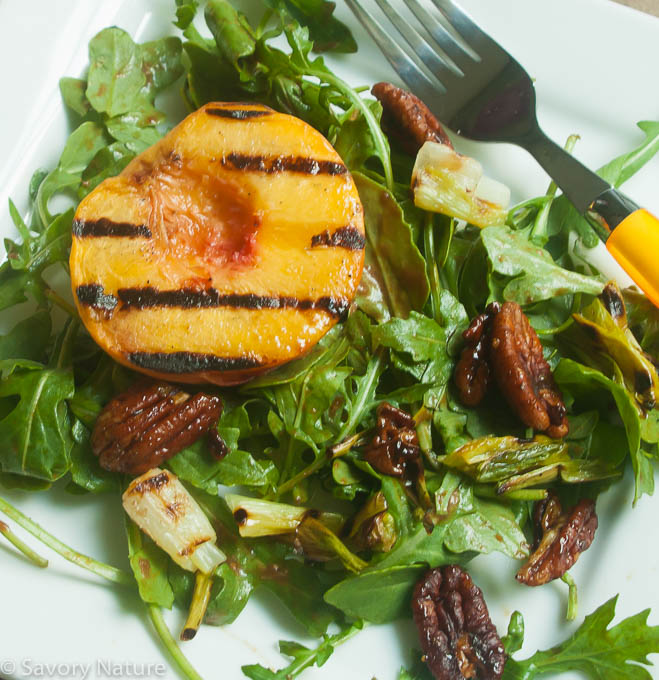 We're getting to the end of peach season, so get those juicy summer-only treats while the getting's good! Grilling accentuates that wonderful peachy flavor, and elevates what on it's own is a fresh wholesome snack to a complex sweet-savory side dish or vegetarian entree.
Grilled peaches are easy, pretty and delicious!
Peaches are so easy to grill. Just use a pairing knife to cut around the pit, slicing the peach in half. Rotate to separate the halves, remove the pit, coat in oil and grill. The natural sugars in the peaches make pretty grill marks and caramelize to a warm browned subtle sweetness that makes them just delectable!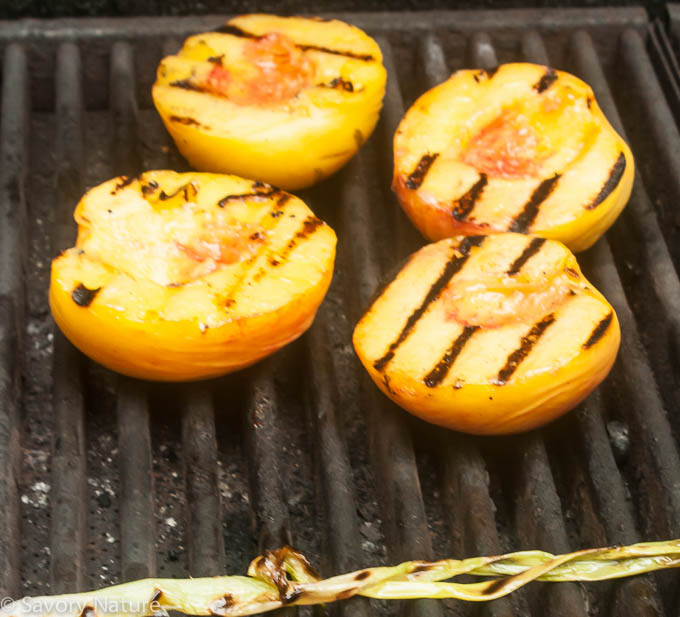 The Grilled Peach Balsamic Vinaigrette is so good!
Grilled peaches are often accompanied by a balsamic vinaigrette. The slightly tart balsamic vinegar is a great counterpoint to the sweet peaches. I thought why not incorporate some grilled peach into the vinaigrette? The resulting creamy peach balsamic vinaigrette is luscious! You can just drizzle some over the peaches and serve.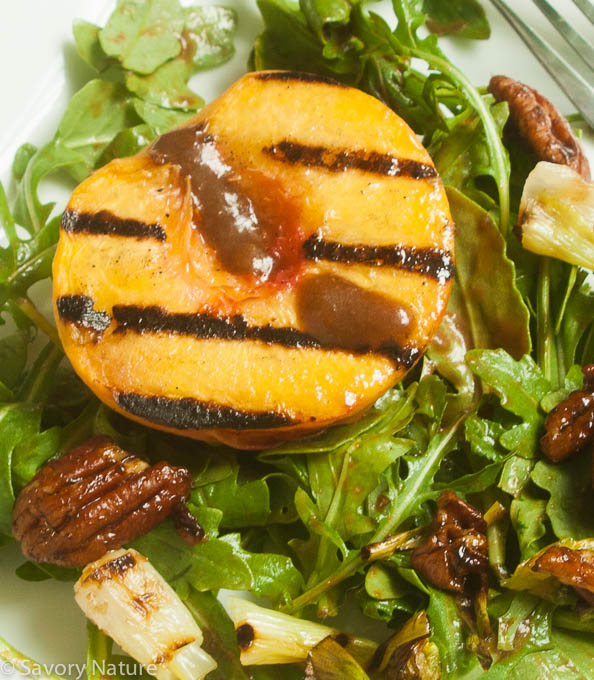 Or dress a green salad with the peach balsamic vinaigrette and top with the grilled peaches. I grilled some green onions and lightly candied some pecans to make the salad pictured above.
If you're looking for an easy, memorable side dish or a focal ingredient to make a salad special, Grilled Peaches with Peach Balsamic Vinaigrette are for you!
Grilled Peaches with Peach Balsamic Vinaigrette
Recipe type:
Side or Salad
Ingredients
5 ripe peaches
High temperature cooking oil like safflower or rice bran
2 Tbsp balsamic vinaigrette
3 Tbsp extra virgin olive oil
¼ tsp salt
freshly ground black pepper to taste
Instructions
Heat grill on high, clean grate with a brush, and use tongs holding a folded paper towel dipped in oil to oil the grate.
Wash and dry peaches, cut all the way around to form 2 halves and twist to separate halves. Cut out pit and discard.
Drizzle peaches with cooking oil and gently rub all over to coat.
Place peaches on grill, cut sides down and grill covered about 5 minutes until grill marks appear.
Turn peaches and grill, cover down, another 2 minutes until tender.
Let cool enough to handle, then rub skins off 2 of the peach halves, chop coarsely and place in a mini-chopper or mini-processor along with the balsamic vinaigrette, extra virgin olive oil, salt and pepper. Process until smooth.
To serve drizzle peach halves with peach balsamic vinaigrette or dress some salad greens with the vinaigrette and serve the peaches on top. (Delicate spring mix or baby arugula work well.)
Notes
You may have extra vinaigrette, which will be great for salads.

Some nice components for a salad are:

Grilled green onions – just toss with oil and grill along with the peaches about 1-2 minutes per side.

Lightly candied pecans – melt 1 Tbsp butter or margarine in a small skillet, add ¼ cup pecans and 1 Tbsp brown sugar and stir over medium heat a few minutes until toasted pecan aroma starts to come.