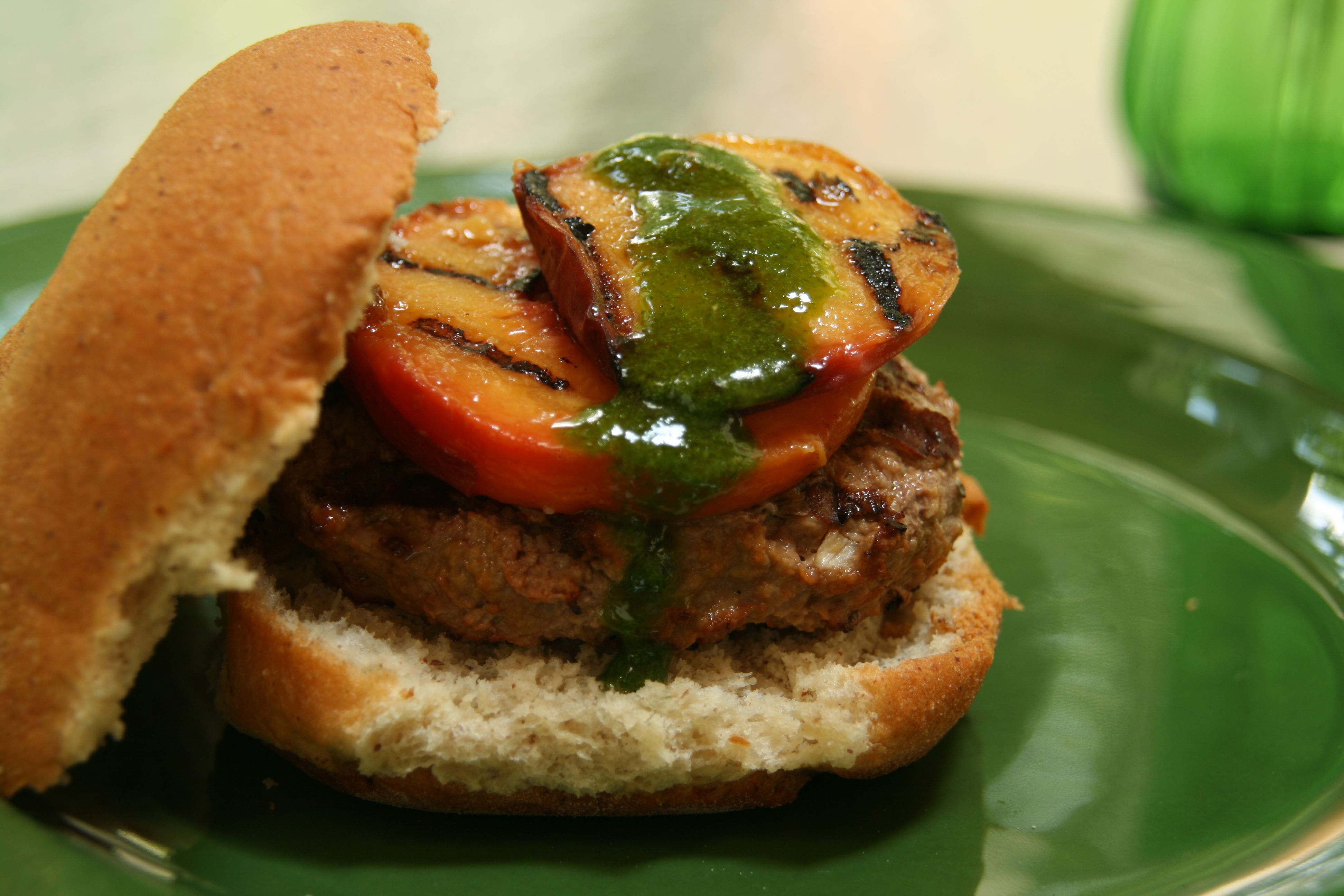 Grilled fruit and turkey burgers are just the perfect pairing!  My friend, Dennis R. introduced our family to turkey burgers topped with grilled pineapple slices and I was amazed at how the caramelized, juicy sweetness of the pineapple added a whole new dimension to the burger.
Peaches and burgers – the perfect pairing!
When peach season came around I decided to try the turkey/fruit pairing with grilled peaches and it's delicious! I've spiced up the burgers with some chipotle peppers. You can use less or even leave them out altogether if you don't like heat.
Peach season is drawing to an end but there are still a few left in the stores and at the farmer's market. Here is a great way to enjoy those last fruits of summer!

Spicy Turkey Burgers with Grilled Peaches and Cilantro Sauce
Ingredients
27 oz ground turkey (hint: some warehouse clubs sell this size)
2 chipotles chopped very fine plus 2 Tbsp adobo sauce
1 tsp cumin
1 tsp coriander
1 tsp garlic powder
½ tsp salt
½ tsp freshly ground pepper
3 peaches, pitted and sliced ¼ inch thick, tossed with 1 Tbsp canola oil
½ bunch cilantro
¼ cup canola oil
¼ tsp salt
1 tsp honey
2 tsp rice vinegar
1 garlic clove
water as needed
Instructions
Preheat grill on high. Clean with a brush. With tongs dip paper towels in peanut oil and rub grill grates several times so that peaches do not stick.
Mix ingredients from turkey through ground pepper in a large bowl.
Form into 6 patties. They will be sticky. Put a thumbprint in the middle of each to reduce shrinkage on the grill.
Grill over medium high heat, cover closed, flipping occasionally until done (thermometer inserted should read 165 degrees F).
Put peach slices on the grill after the first 10 minutes and grill a few minutes until grill marks appear, flip and grill until marked on the second side and remove.
For the cilantro sauce, put cilantro through garlic clove in a mini-blender or mini-chopper and process until smooth. Add water if sauce is too thick.
Serve peach slices over burgers and top with cilantro sauce.