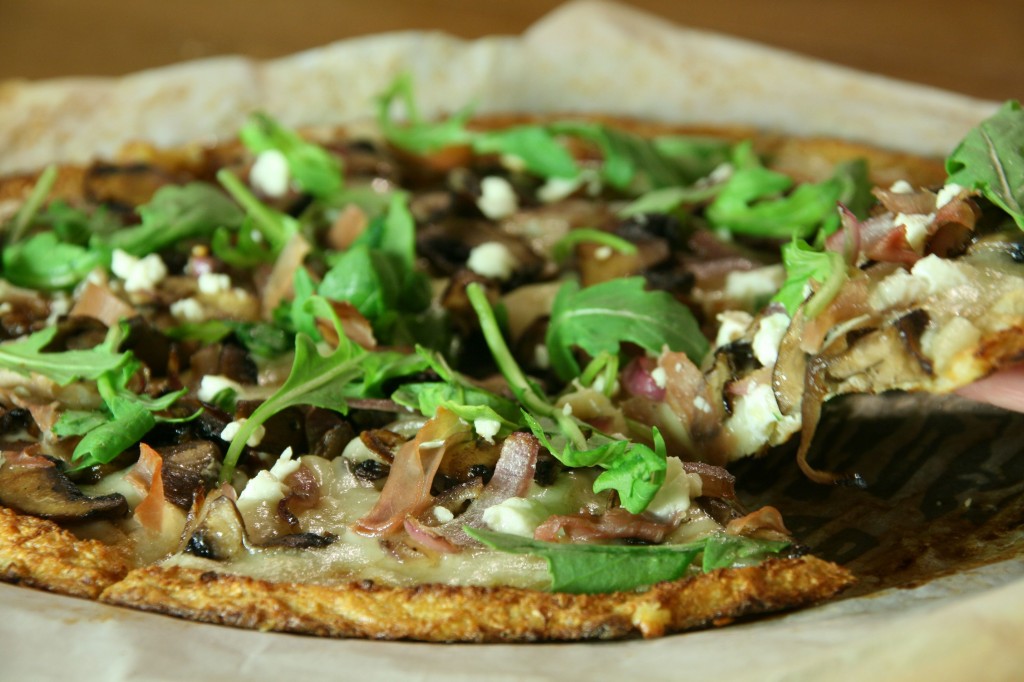 I promised a few posts ago that a pizza on cauliflower rice crust was coming. This is a whole different kind of gluten-free pizza crust. Normally they're made with some combination of rice, tapioca and other flours. This one's made primarily from cauliflower with some egg and cheese for binders. Who would think this would ever work, but I've tried it and it holds together and tastes great! It's a bit limper than the average dough crust but it does not fall apart. If you're trying to avoid refined carbohydrates, this crust will enable you to have pizza again!
The cauliflower rice crust can be made with goat or cream cheese or done dairy-free with soy cheese.
I'm providing a link to the recipe for the crust. It's from detoxinista.com. I used 1 tsp granulated garlic rather than oregano to season the crust because I thought it went better with my toppings. I made the crust using goat cheese as the recipe directs but I also tried it with Tofutti dairy-free cream cheese since my daughter is dairy intolerant. It worked just fine. I top her pizzas with daiya brand mozzarella and she loves them. I think if you don't like the taste of goat cheese, Neufchatel cream cheese would also work.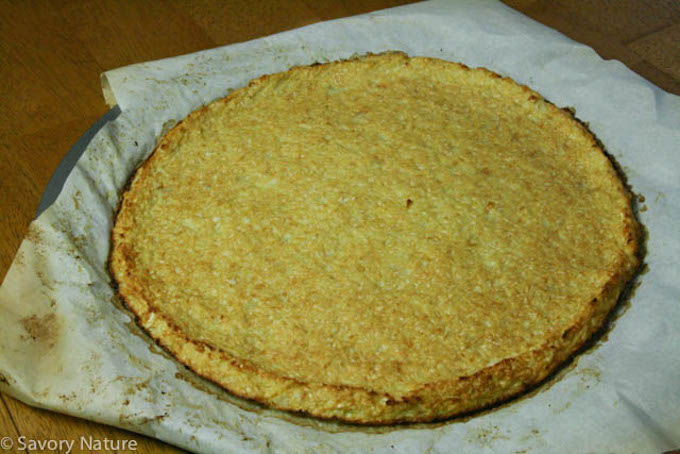 I normally like to use reduced fat cheese in my cooking to limit the saturated fats but let's face it, they just don't cut it for pizza. I used fresh mozzarella here – at least it's not an especially high fat cheese. And I also used a very small amount of goat cheese on the pizza. The peppery arugula, earthy portabello mushrooms, salty prosciutto and slightly sweet onions make for an awesome tasting pie!

Arugula, Mushroom and Prosciutto Pizza on Cauliflower Rice Crust
Ingredients
1 Cauliflower Rice Pizza Crust
4 oz sliced portabello mushrooms
1 piece prosciutto, sliced into ⅜ inch by 1 ½ inch strips
3 Tbsp olive oil
1 clove of garlic, minced
4 thin circular slices of red onion, cut in quarters
5 oz grated fresh or whole milk mozzarella cheese
1 oz goat cheese
1 cup arugula
Instructions
Make cauliflower crust according to directions at detoxinista.com
Preheat oven to 400 degrees F
Put garlic and 1 ½ Tbsp oil in a small bowl and microwave on high 30 seconds.
Let stand so the garlic taste infuses the oil.
Heat a large sauté pan over medium heat.
Add 1 ½ Tbsp extra virgin olive oil and mushrooms and onions.
Cook several minutes until onions are soft and mushrooms have given up some water and browned a bit.
Brush garlic oil on crust – you may not need all the oil – you want just a very light coating of oil – but make sure all the yummy bits of garlic get distributed over the crust.
Sprinkle mozzarella over crust.
Top with mushrooms and red onions and prosciutto.
Sprinkle with goat cheese crumbles.
Bake at 400 degrees F for about 12 minutes until cheese melts and is just starting to brown around the edges.
Top with arugula , slice and serve.