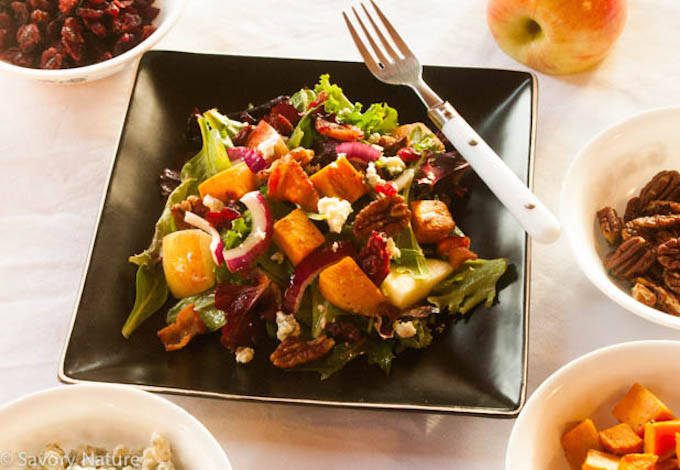 This sweet potato salad is so pretty to look at and so good! It has a little bit of everything: tender roasted sweet potatoes, crunchy apple, sweet tart dried cranberries, lightly candied bacon and pecans, and bleu cheese served over mixed greens tossed with a tangy sweet apple Dijon vinaigrette.
Adjust the ingredients in this Sweet Potato Salad to make it vegetarian or vegan.
The recipe provides instructions for just candying the pecans (no bacon) if you prefer to keep it vegetarian. Hubby wanted the bacon. What is it about men and meat? Anyway, the bacon's good but not necessary. This sweet potato salad is plenty satisfying without it. For a vegan version leave out the cheese too or check out these vegan bleu cheese recipes from Melomeals or Vegalicious Recipes. They both contain soy, but if you're allergic you could substitute chickpea miso in the Vegalicious recipe and have it soy-free.
Make a meal of this Sweet Potato Salad or serve it as a kicked-up side dish.
This sweet potato salad is satisfying enough to stand on its own as lunch or a light supper or pair it with a protein for a fuller meal. We paired a large portion with some seared scallops – what a treat! You could also pair it with a cauliflower steak for a sumptuous vegetarian or vegan meal.

Sweet Potato Salad with Apple, Cranberries and Pecans
Recipe type:
Entree or Side
Ingredients
Dressing
¼ cup extra virgin olive oil or canola oil or a combination of the two
¼ cup Tbsp cider vinegar
2 Tbsp apple cider
2 tsp Dijon mustard
1 large or 2 medium garlic cloves, minced
¼ tsp salt
freshly ground black pepper to taste
Salad
2-3 slices red onion, slices cut in quarters
3 cups cubed sweet potato (1/2 inch) (about 1 large sweet potato)
2 Tbsp extra virgin olive oil, divided
salt and freshly ground pepper to taste
3 slices bacon, sliced in ½ inch pieces (optional)
1 Tbsp brown sugar (½ Tbsp if not using bacon)
½ cup pecans
1 apple, cut into roughly ½ inch pieces
¼ cup dried cranberries
¼ cup bleu cheese
6 cups loosely packed lettuce mix (spring mix or half and half spring mix/baby spinach)
Instructions
Preheat oven to 400 degrees F.
Mix dressing ingredients: oil through black pepper. Add red onion and microwave on high 10 seconds. Set aside while you prepare the rest of the salad. This will cook the garlic just enough and infuse the dressing as well as mellowing the red onions.
Oil a sheet pan.
In a bowl, toss sweet potatoes with 1 Tbsp extra virgin olive oil and salt and pepper to taste.
Spread on sheet pan and roast 25 minutes until fork tender.
Allow to cool.
Heat 1 Tbsp olive oil over medium high heat and add bacon.
Cook about 3 minutes until some fat has rendered and then add the 1 Tbsp brown sugar.
Cook about another 3 minutes until well browned. Remove bacon to paper towels to drain and dab off excess fat.
Pour out all but about 1 Tbsp of the bacon fat and add the pecans.
Toss in the oil and cook just until toasted nutty aroma starts to come.
Remove to a bowl and cool and then dab off excess oil with paper towels.
Vegetarian alternative: Skip bacon. Heat 1 Tbsp olive oil in a skillet over medium high heat. Add pecans and ½ Tbsp brown sugar. Cook stirring until toasted nutty aroma comes. Remove to a bowl and let cool. Dab off extra oil with a paper towel.
Combine lettuce and sweet potatoes, apple, bacon, cranberries, pecans, and bleu cheese with dressing and toss well to coat and serve.