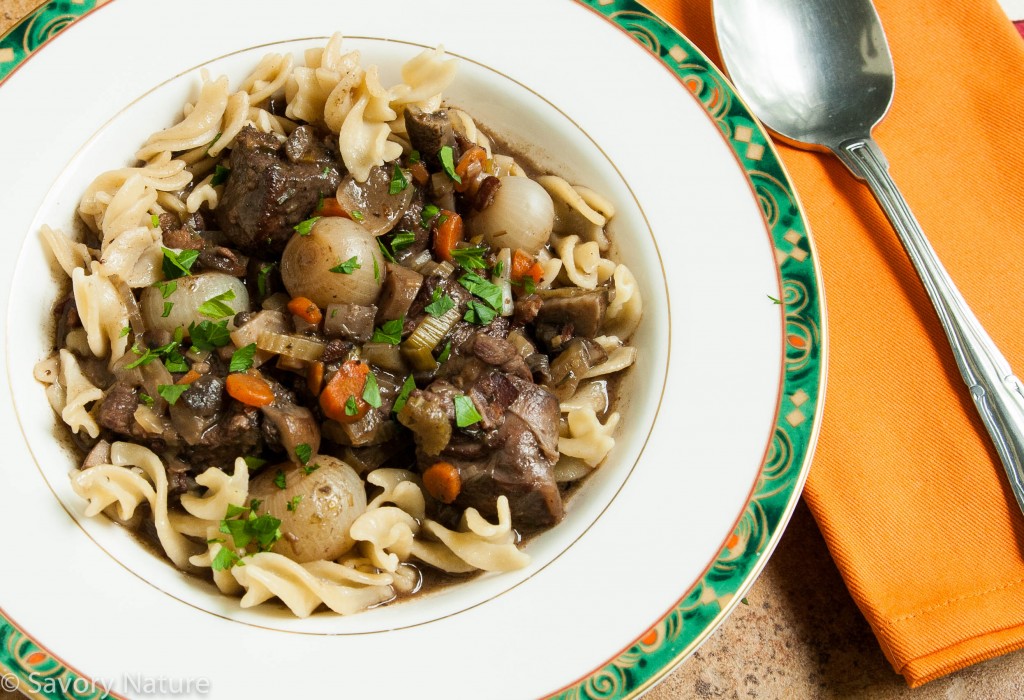 We're still getting some cool rainy days that cry out for comfort food. Hubby made this beef stew on one such day and it hit the spot! It's got some interesting flavors not typical in beef stew: fennel bulb, tarragon and marjoram. All the flavors, the herbs, the vegetables, the wine come together beautifully!
This is a long cooking stew, which breaks down the collagen in the beef and makes it wonderfully tender. This Beef Stew with Fennel and Tarragon is the perfect satisfying meal to make on a lazy Saturday or Sunday afternoon.

Beef Stew with Fennel and Tarragon
Ingredients
4 strips bacon cut in quarters
1 leek
2 stalks celery
2 medium carrots, peeled
One 10 oz bag pearl onions
1 2 ¾ pound chuck roast
¼ cup sweet rice flour plus 1 Tbsp divided
1 ¾ cups red wine
1 ¾ cups beef stock
2 tsp dried tarragon
1 tsp dried marjoram
1 tsp salt
freshly ground black pepper to taste
1 fennel bulb, top discarded, quartered and sliced thinly
8 oz baby bella mushrooms, coarsely chopped
2 Tbsp chopped parsley (optional)
Instructions
In a large pot or Dutch oven, cook bacon until crisp.
Remove bacon, leaving fat in pan, and crumble when cool enough to handle. Reserve.
Chop bottom and top dark green parts off of leek and discard.
Slice leek in half lengthwise and rinse well.
Chop leek finely.
Chop celery and carrots finely.
Saute leek, celery and carrot in remaining bacon fat in pot until soft.
Remove and reserve.
Cut away as much fat as possible from roast.
Cut roast into 1 ½ inch cubes and toss with ¼ cup sweet rice flour to coat.
Brown the meat in 2 batches in the remaining bacon fat in the pot and remove.
Add 1 ¾ cup red wine to pot and bring to a boil scraping up browned bits from pan.
Add 1 ¾ cups beef stock to pan along with salt, black pepper, tarragon and marjoram and bring back to a boil.
Add back sautéed vegetables and beef to pot, reduce heat and simmer covered for 1 ½ hours.
Fill a medium pot ⅔ full with water and bring to a boil. Drop pearl onions into boiling water and boil 3 minutes.
Drain and cover with cold water.
Once cool, cut off tops and bottoms and slide off peels. Set aside.
Once stew has cooked 1 ½ hours add in fennel, mushrooms and pearl onions.
Mix 1 Tbsp sweet rice flour with ¼ cup water and stir into pot.
Simmer stew an additional half hour.
Serve over gluten free noodles and sprinkle with parsley if desired.