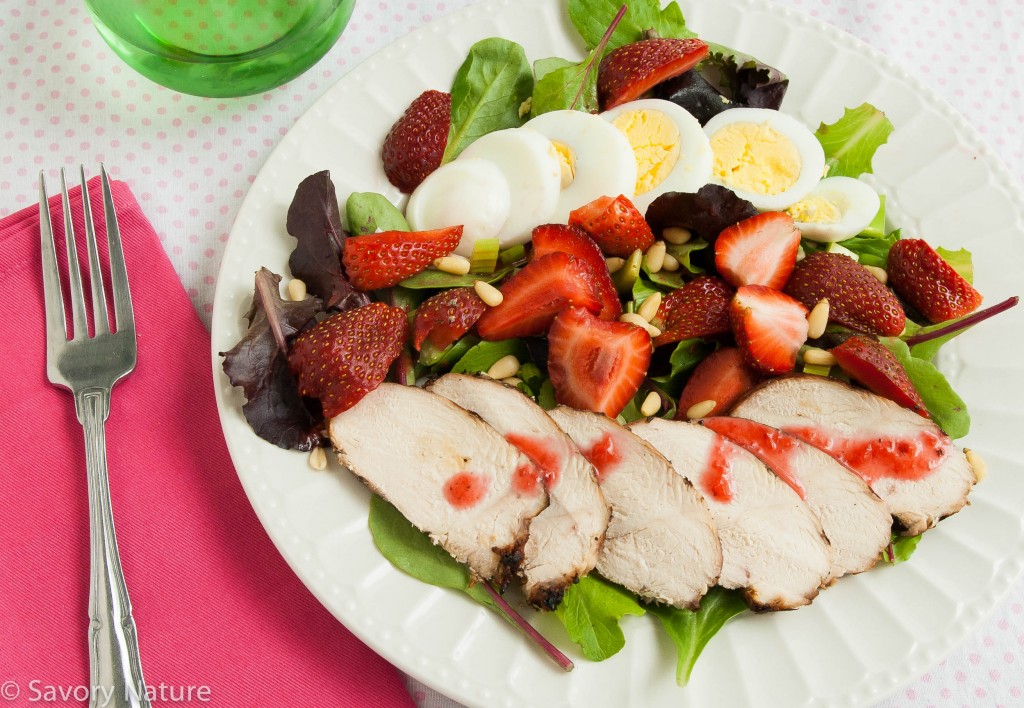 Fresh local strawberries are such a treat! This Strawberry Chicken Salad makes the most of the season's bounty by incorporating strawberries into the salad and the dressing. Aside from being plump juicy sweet bites of deliciousness, strawberries are really good for you too! According to The World's Healthiest Foods, they're loaded with antioxidants and have anti-inflammatory effects. So indulge while the season's here and feel good about it!
This strawberry chicken salad is a wholesome delicious full meal. The chicken marinates in the strawberry vinaigrette. It looks a little scary with the bright pink color when you put it together, but fear not, you won't end up with pink chicken. The sugars in the strawberries help the chicken brown on the grill beautifully.
There are lots of variations you could do on this salad. This version has pine nuts for crunch and hard-boiled eggs just because hubby wanted them. You could sub other nuts for the pine nuts or use sunflower seeds if you're allergic to tree nuts. You could skip the hard-boiled eggs or replace the chicken with them. You could add some blueberries for additional color. The fruity dressing will tie together whatever combination you decide on.
This strawberry chicken salad would make a great spring/summer time dinner or lunch. Enjoy local strawberries while they're here – they're so good and good for you!

Strawberry Chicken Salad
Ingredients
For the Vinaigrette
1 ¼ cups strawberries, green tops removed
½ cup canola or olive oil
½ cup white wine vinegar
½ tsp salt
Freshly ground pepper to taste
1 Tbsp honey
For the Salad
2 boneless skinless chicken breasts
4 hard-boiled eggs, peeled and sliced
5 oz salad greens like baby spring mix
16 strawberries, green tops removed and quartered
3 stalks celery, chopped
4 green onions, chopped
2 Tbsp pine nuts (or other nuts or sunflower seeds according to your likes/allergies)
Instructions
To make the Strawberry Vinaigrette:
Place all vinaigrette ingredients in a blender, mini-blender or mini-chopper and puree until smooth.
To prepare the chicken:
Place the chicken in a zip lock bag and pour in ½ cup of the Strawberry Vinaigrette. Allow to marinate in the refrigerator for at least 30 minutes.
Heat a grill on high.
Remove chicken from marinade, discard marinade, and pat chicken dry with paper towels.
Grill the chicken 20-30 minutes cover down turning frequently until it reaches an internal temperature of 165 degrees F.
Allow to rest 5 minutes before slicing thinly.
To assemble the salads:
Divide the greens between 4 plates or shallow bowls.
Dress each serving of greens with 2-3 Tbsp of the Strawberry Vinaigrette and toss lightly to coat.
Arrange 1 sliced egg, ½ chicken breast, and ¼ of the strawberries, celery, green onion and nuts or seeds over each serving of greens.
Drizzle a little more vinaigrette over the chicken and serve.
Notes
You will have some leftover vinaigrette to use for other salads.

The best way I've found to hard- boil eggs is actually to steam them. Set a steamer basket in a pot with water and heat to boiling. Add eggs, cover and steam for 16 minutes. Then run under cold water to stop cooking. They come out perfectly cooked and are so easy to peel this way.