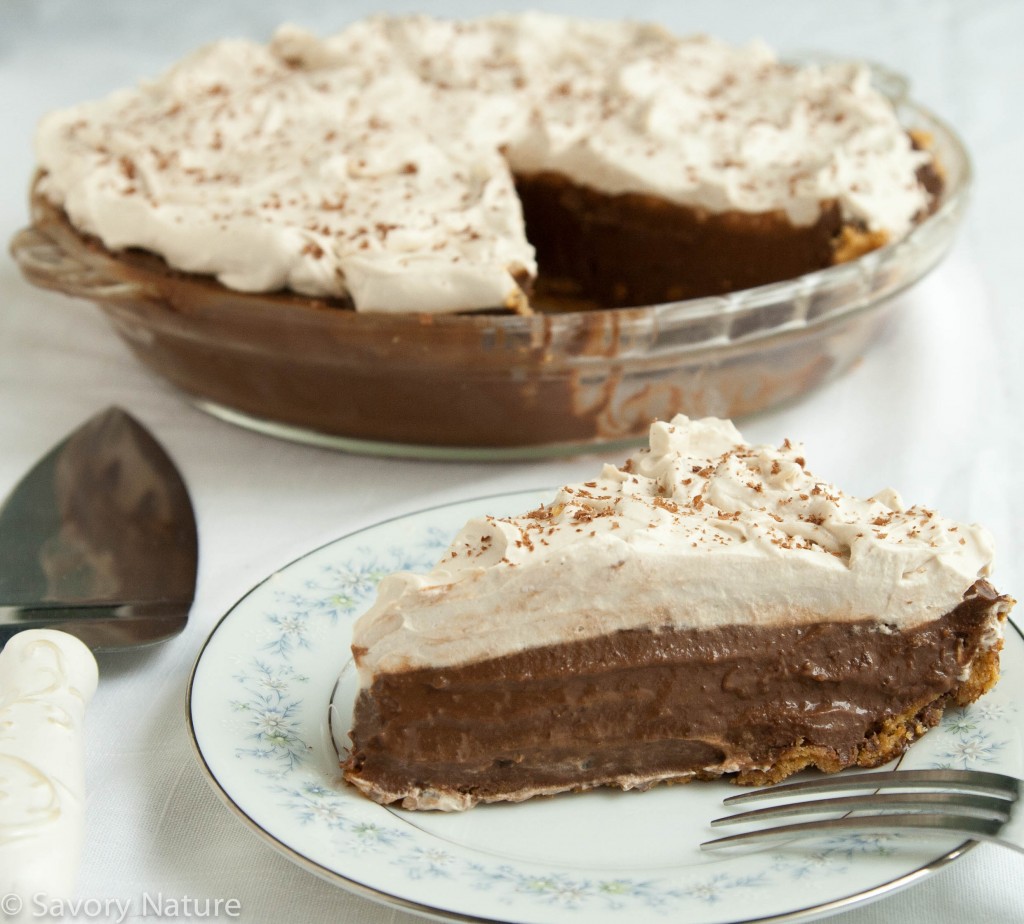 I have a major weakness for chocolate. I don't indulge in dessert very often, but when I do, I just about always go for chocolate. This pie was made for my son's and my birthday celebration. Yes, we were born on the same day and there's double the reason to indulge!
You'd never know this delectable Coffee Chocolate Cream Pie is dairy free!
This pie is so creamy and chocolate-y. It's just divine! Thickened with pureed dates and topped with a coconut cream, it's dairy free, but tastes just as decadent as any dairy version. Coffee adds a nice "grown-up" flavor.
4-flour gluten free mix makes a nice flaky pie crust.
I used my standard gluten-free pie crust made with Bette Hagman's 4 flour gluten free mix from "The Gluten Free Gourmet": (garbanzo bean flour, sorghum flour, cornstarch and tapioca starch flour). It comes out nice and flaky every time.
The filling for this Coffee Chocolate Cream Pie is so rich and delicious!
The filling for the pie is dates softened in coconut milk with melted chocolate and coffee all pureed. A coconut milk whipped coffee cream tops it off for a truly addictive dessert. I keep sneaking bites out of the refrigerator! Fortunately it will be gone before I've packed on too many pounds!
Want a rich creamy chocolate pie that's both dairy free and gluten free? This is your recipe!

Coffee Chocolate Cream Pie - Dairy Free, Gluten Free
Ingredients
Dough:
1 cup of Bette Hagman's 4 flour mix from "The Gluten Free Gourmet": (2/3 cup Garfava or garbanzo bean flour, ⅓ cup sorghum flour, 1 cup cornstarch, 1 cup tapioca starch flour). Save the extra for another purpose.
¼ tsp salt
1 tsp xanthan gum
¼ cup plus 2 Tbsp margarine such as Earth Balance (They have a soy free version available if needed.)
2 Tbsp ice cold water
Chocolate Filling:
2 cans full fat coconut milk
Pinch salt
¼ cup instant coffee granules
1 cup dried pitted dates
2 cups dairy free allergen free semi-sweet chocolate chunks (like Enjoy Life brand)
2 Tbsp vanilla extract
Coconut Cream Topping
1 can of full fat coconut milk or coconut cream (The fat and water need to separate out in the refrigerator overnight. Trader Joe's sells a coconut cream that works well, otherwise try to find a coconut milk that does not have guar gum or xanthan gum in it- you may wish to try a couple different brands in case you get a dud. I have heard that Native Forest brand even though it has guar gum separates well.)
1 tsp instant coffee granules dissolved in 1 tsp hot water
About 1 Tbsp sugar or honey (to taste)
½ tsp vanilla extract
Instructions
For the crust:
Preheat oven to 350 degrees F.
In a large bowl mix the 4-flour mix well. Take out 1 cup and reserve rest for another use.
To the cup of flour, mix in the salt and xanthan gum.
With a fork, cut in the margarine until well mixed.
Stir in 2 Tbsp cold water and knead the dough. If it seems too dry knead in a few more drops cold water. Dough should be pliable, but not too sticky. If sticky knead in a little more flour mix.
Wet counter and put a sheet of wax paper down. Water will keep sheet from moving.
Pat dough ball into a circle on wax paper.
Cover with another sheet wax paper and roll out a bit larger than your pie plate so that you have enough dough to go up the sides.
Peel off top waxed paper.
Pick up dough with wax paper and invert onto pie plate (or invert pie plate onto dough and then flip the 2 over together).
Peel off wax paper and press dough into pie plate.
Crimp excess dough at top to give a uniform edge.
Bake at 350 degrees F for 30-40 minutes until lightly browned.
For the filling:
Heat coconut milk, salt, coffee granules and dates almost to a boil in a large saucepan.
Add chocolate chunks and vanilla and heat stirring until melted.
Let cool a few minutes.
Pour into a processor and process until smooth.
Pour into crust and refrigerate at least 6 hours or overnight.
For the whipped cream:
Refrigerate can of coconut milk or cream overnight to allow fat and water to separate.
Invert can and open what was the bottom of the can.
Pour off water and discard (there may not be any if you're using coconut cream.)
Scrape solid coconut fat into a large bowl.
Add coffee, sugar or honey and vanilla extract and beat with a hand mixer until light and fluffy.
Top chilled chocolate pie with whipped cream topping.
If desired grate a little chocolate over top of pie.