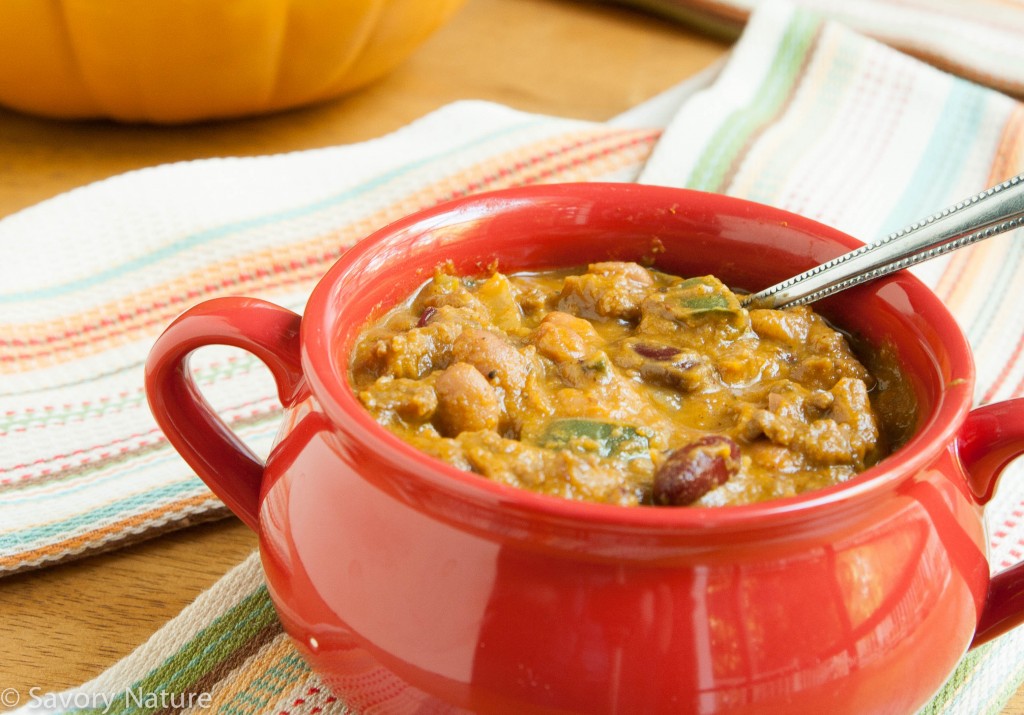 It's that time of year for all things pumpkin! Fall may be my favorite time of year – the cooler weather, the panorama of color as the leaves change, a hike in the woods with drying leaves underfoot. It's also when hearty comfort food replaces the lighter fare of summer. And what's more comforting than a bowl of steaming hot chili on a cool fall evening?
I got the idea for a pumpkin chili from the recipe page of the October issue of Carolina Country, our mountain electric cooperative's magazine. I developed my own recipe, but the idea of adding pumpkin to chili was brilliant!
My daughter is allergic to tomatoes so we're always looking for ways to make chili sans tomatoes. Who can live without chili once in a while? The pumpkin really fills out the flavor profile and thickens the chili. A little vinegar brings the acid that tomatoes would normally impart. If you're not tomato averse, you could add a can of diced tomatoes and skip the the vinegar and water, but this chili tastes great even with out them. Poblano and jalapeno peppers and a pleasingly hot mix of spices complete this hearty Pumpkin Chili.
This Pumpkin Chili was a hit with my family and it will be with yours too! Bring a little extra taste of fall to your chili with pumpkin!

Pumpkin Chili
Ingredients
1 lb lean ground beef
1 yellow onion, chopped
1 poblano pepper, chopped
1 jalapeno pepper, finely chopped
2 Tbsp olive oil, divided
2 cloves garlic, minced
2 cups beef stock
½ cup water
1 15 oz can pumpkin
1 15 oz can dark red kidney beans, drained
1 15 oz can pinto beans, drained
½ tsp dried oregano
1 tsp salt
generous amount freshly ground black pepper
2 tsp chili powder
1 tsp ground cumin seed
½ tsp ancho chili powder
⅛ tsp ground cloves
⅛ tsp ground nutmeg
2 Tbsp apple cider vinegar
Instructions
Heat 1 Tbsp olive oil in a large pot.
Add ground beef and stir until browned and remove to a bowl.
Add 1 Tbsp olive oil to pot along with onion and poblano and jalapeno peppers.
Stir occasionally for about 3-5 minutes until onion just starts to brown.
Add garlic and stir about 30 seconds until aroma comes.
Add beef stock and water and scrape bottom of pot with a wooden spatula to release browned bits.
Stir in pumpkin and mash to combine.
Add ground beef with juices back to pot along with rest of ingredients: beans through vinegar.
Cover and simmer 45 minutes, stirring occasionally.