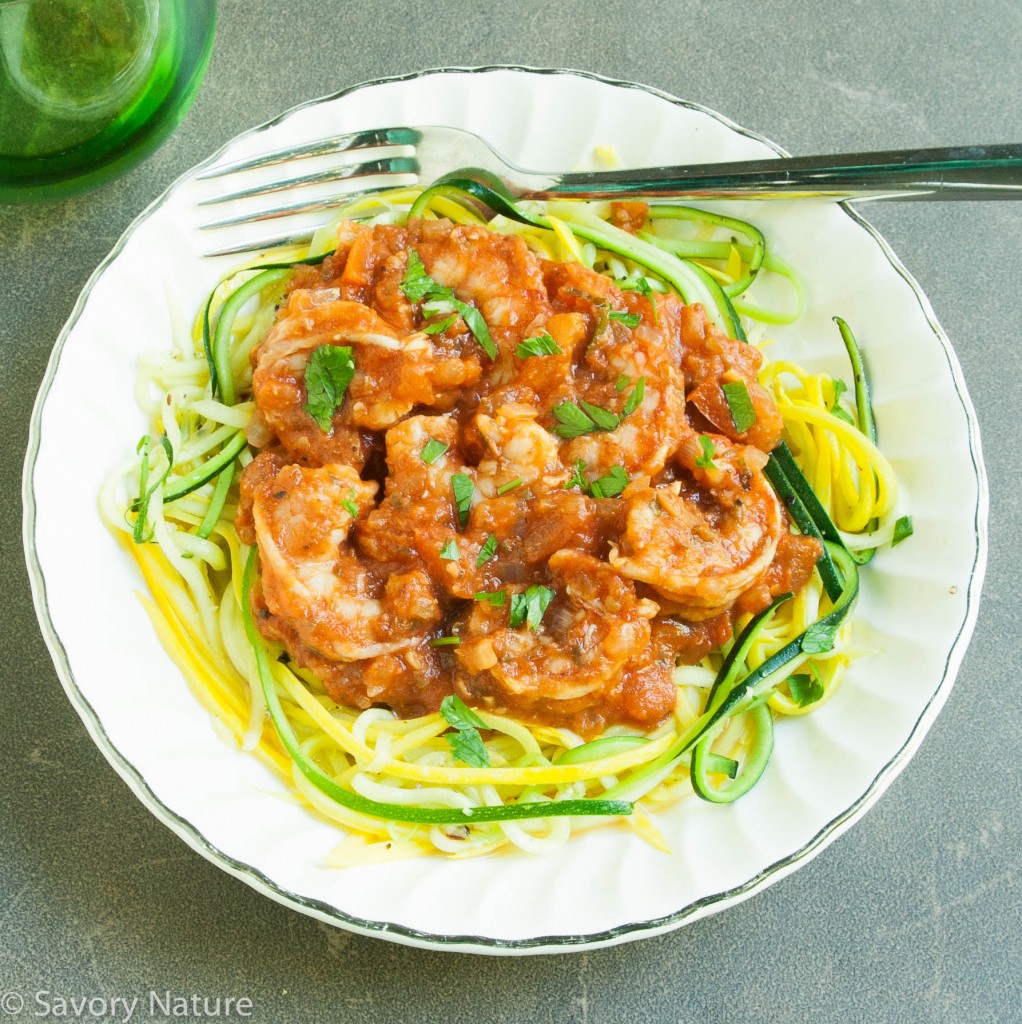 This is a fresh, lower carb take on Shrimp Fra Diavolo. Instead of serving it over pasta, it's served over zucchini and yellow squash noodles, otherwise known as "zoodles and sqoodles". Love those silly words! Actually I'm not sure whether the yellow squash noodles should be called sqoodles or yoodles – take your pick!
There are several tools you can use to cut your zoodles and sqoodles. If you have a spiral slicer that's great. If not a mandolin with a julienne insert or a julienne peeler will do the job. I used a julienne peeler and found peeling lengthwise and turning the squash periodically to peel new surfaces until I got down to the seeds worked well. I discarded the central seeded part of the squash.
Once you've got your zoodles (and sqoodles) cut, this Shrimp Fra Diavolo is a very quick cooking dish. The zoodles cook just a couple minutes so you can put them on as you finish up the shrimp and sauce. You could cook the zoodles in with the sauce and shrimp, but I think it makes for a prettier presentation to cook them separately and see their yellow and green colors on the plate.
The tangy, spicy tomato sauce, the sweet shrimp and the zoodles and sqoodles are a winning combination in this freshened up low carb/low calorie Shrimp Fra Diavolo.

Shrimp Fra Diavolo over Zoodles
Ingredients
4 medium summer squashes (a combination of yellow squash and zucchini is pretty)
2 Tbsp margarine
1 lb shrimp, peeled and deveined
2 Tbsp extra virgin olive oil
1 yellow onion, chopped
1 large fresh tomato or 2 Roma tomatoes, chopped
4 cloves garlic, minced
1 tsp crushed red pepper flakes
¾ cup white wine
½ tsp salt, divided
freshly ground black pepper to taste
1 15 oz can crushed tomatoes
½ tsp chopped fresh oregano
½ tsp chopped fresh basil
¼ tsp chopped fresh rosemary
1 tsp chopped fresh parsley
Instructions
Heat 2 Tbsp extra virgin olive oil in a large skillet.
Add chopped onion and tomato and sauté about 3 minutes until onion is soft.
Add minced garlic and crushed red pepper flakes.
Saute about 30 seconds until aroma comes.
Add white wine and scrape bottom of pan with a wooden spatula to release any browned bits.
Boil wine until reduced by about half.
Meanwhile heat 2 Tbsp margarine in another large skillet.
Add zucchini and squash noodles to margarine in skillet, sprinkle with ¼ tsp salt, and cook occasionally stirring about 2 minutes until softened slightly.
Once wine is reduced in other skillet, add crushed tomatoes, ¼ tsp salt, freshly ground black pepper, oregano, basil and rosemary.
Bring to a boil.
Add shrimp and simmer about 2 minutes until shrimp is just opaque and pink/just cooked through.
Serve shrimp with sauce over zucchini and squash noodles (zoodles and sqoodles).
Sprinkle each serving with a little parsley.