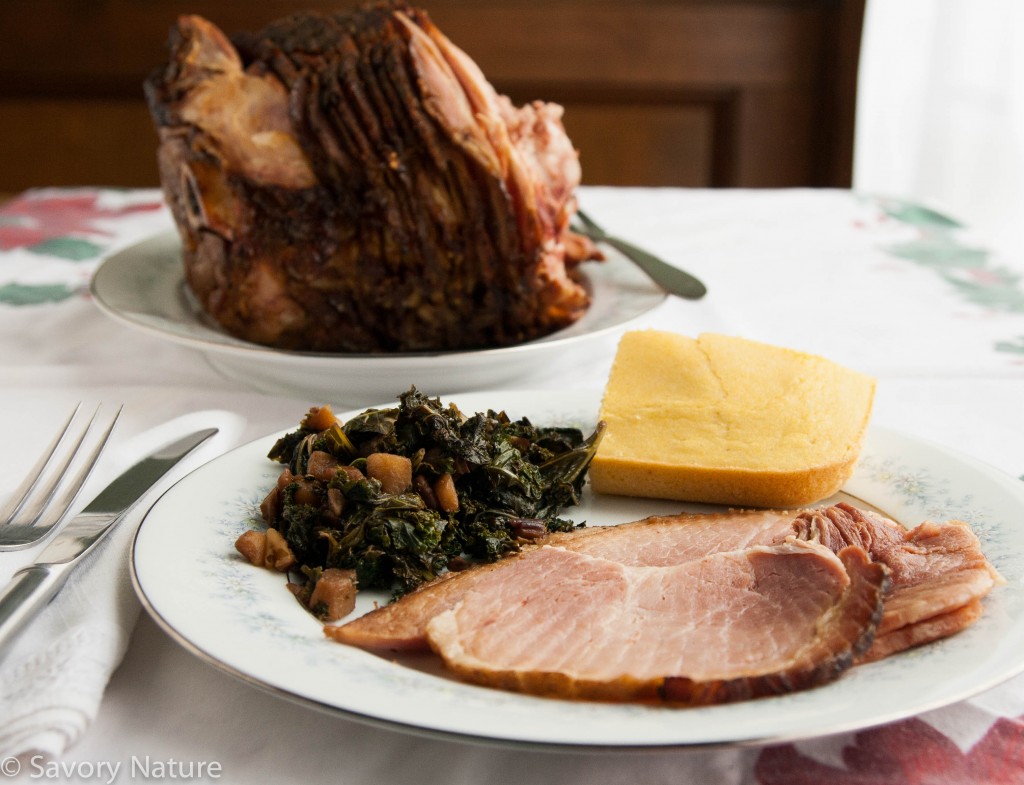 Ham is such a popular holiday entrée. It's festive. It will serve a crowd. It's easy, and it makes for great leftovers. What more could you ask for?
There are two major types of ham, country and city. Country hams are dry cured over months. They come uncooked, need to be soaked several days, and are quite expensive. City hams, on the other hand, are liquid-brined. They come cooked. It's merely a matter of heating them up, and glazing if you like. City hams are what you'll commonly find in grocery stores, and that is the type used in this recipe.
The best type of city ham to use is with no water or juices added. Those with natural juices added are a little cheaper, and still acceptable. Avoid hams that say water added or ham and water product as well as canned hams. And finally look for a bone-in shank end ham. In terms of size, figure ½ to ¾ of a pound per person. If you'd like more details of the why's of ham selection, check out this article, which guided me, at SeriousEats.com.
The glaze is really the piece de resistance of the ham. This sweet tangy orange bourbon glaze lives up to that responsibility and then some. With bright citrusy orange juice, smoky bourbon and molasses, sweet honey and brown sugar, and a pop of tangy Dijon mustard, it's the perfect complement to the salty ham.
Make this delicious Orange Bourbon Glazed Ham the centerpiece of a low stress holiday meal!

Orange Bourbon Glazed Ham
Ingredients
A bone-in shank end smoked ham (spiral sliced or not are both fine)
½ cup bourbon
½ cup orange juice
¼ cup molasses
2 Tbsp honey
1 Tbsp brown sugar
1 Tbsp Dijon mustard
Freshly ground black pepper to taste
Instructions
Preheat oven to 275 degrees F.
Wrap ham tightly in aluminum foil and place on a rack in a sheet pan.
Place pan in oven and bake about 2 ½ to 3 hours until ham reaches 120 degrees F near center.
Meanwhile boil bourbon and orange juice in a saucepan, uncovered until reduced by about half.
Add molasses, honey, brown sugar, Dijon mustard and black pepper and simmer, uncovered for 10-15 minutes until thickened.
Set aside. If it's too thick when it's time to glaze, you can rewarm it, and also add a little more orange juice if needed.
When ham reaches 120 degrees F, remove from oven and raise temperature to 400 degrees F.
Remove ham from foil, return to rack, and brush all over with ⅓ of glaze.
Bake at 400 degrees F for 5 minutes.
Remove from oven and brush again with another ⅓ of the glaze.
Bake 10 minutes, remove, brush with remaining glaze.
Cover loosely with aluminum foil and let rest 15 minutes before carving.