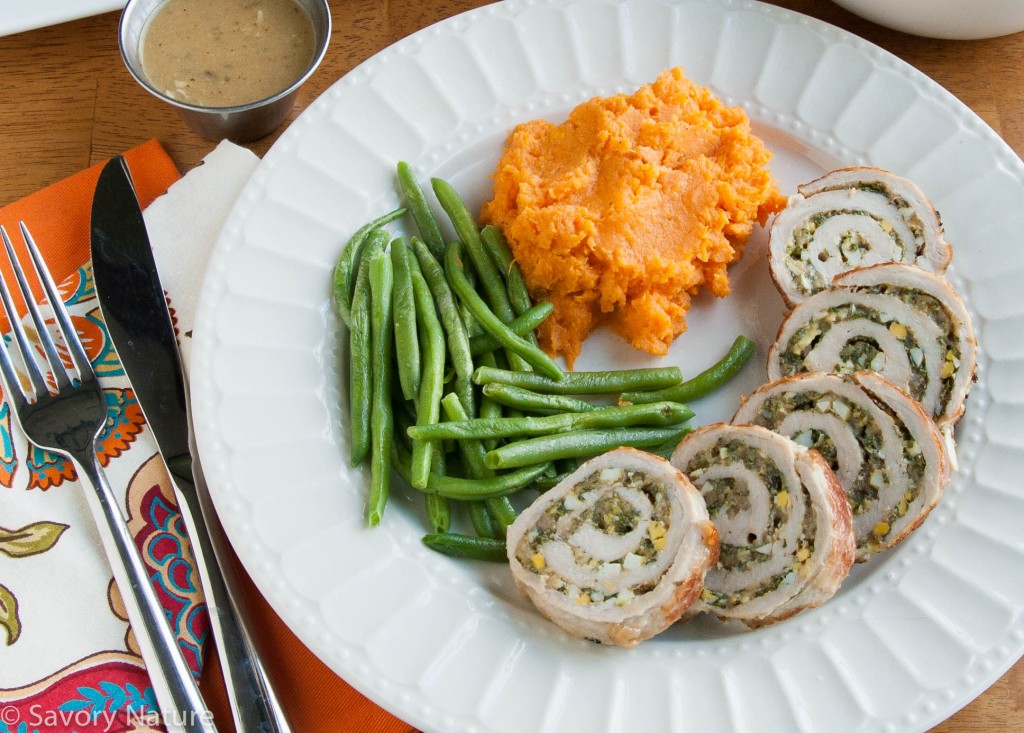 Do you love fresh flavors like lemon zest and parsley, but like some hearty porky goodness, too? Then you'll love these stuffed pork rolls filled with a lemon parsley accented stuffing. And complement those fresh flavors with a luscious Dijon wine sauce – yeah, doesn't that sound awesome!? Don't they look so beautiful and yummy!?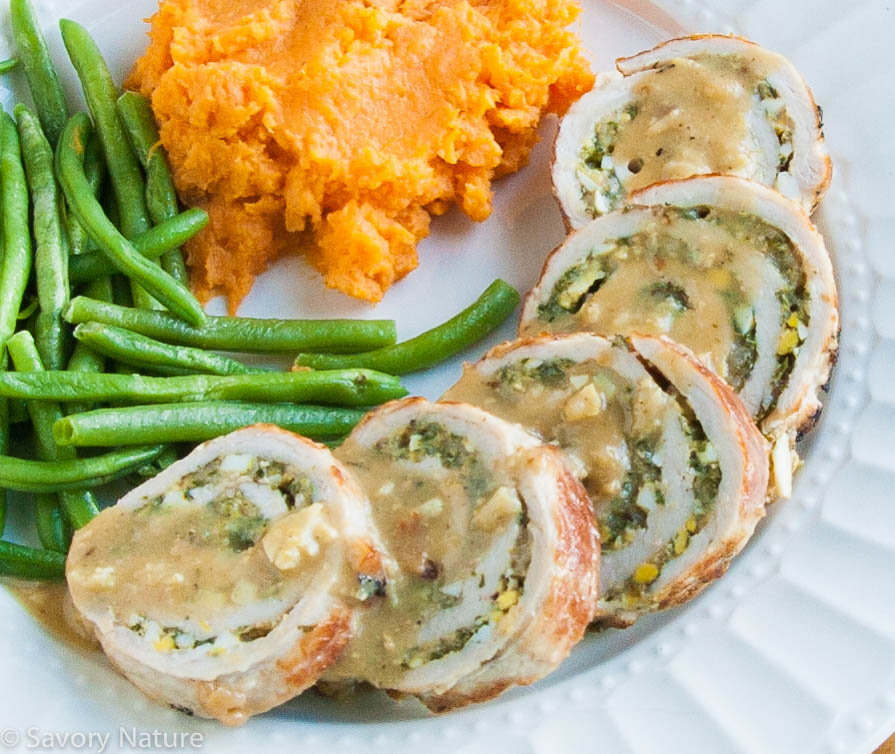 This recipe was inspired by my Mom's Italian Braciole recipe. It's made with beef rolls and the stuffing has breadcrumbs, tomatoes, hard-boiled eggs, and Parmesan cheese. We decided to do stuffed pork rolls instead, and kept the eggs and cheese, but thought brighter flavors like lemon and parsley would augment the pork better. We went with a Dijon wine sauce instead of a Marinara and the flavors are all just divine together! This just goes to show you how you can take a classic recipe and duplicate the techniques, but do so many different flavor variations.
We used thick boneless pork chops, and "tri-butterflied" them (I'll explain in the recipe), and then pounded them thin. We spread the stuffing on them, rolled them up, and browned the stuffed pork rolls in a skillet. The pan gets deglazed with a white wine, chicken stock, Dijon mustard mixture – so tasty! The pork rolls return to the pan along with some garlic, and braise about 25 minutes. Then you just slice the rolls, serve with the pan sauce, and prepare to be amazed!

Stuffed Pork Rolls
Ingredients
3 thick boneless pork chops
Salt
⅓ cup sweet rice flour (also called glutinous rice flour – found at Asian markets)
2 Tbsp olive oil
For Stuffing:
1 cup finely chopped parsley (about 1 bunch)
Grated zest of 1 lemon
2 hard-boiled eggs, chopped finely (the best way to do them is to steam them for 12 minutes – then chill in cold water – they're perfect every time and easy to peel, too)
2 garlic cloves, grated
½ cup gluten free breadcrumbs (I discovered 4C makes these now – available at Walmart)
¼ cup grated Toscano or Parmesan cheese (for a dairy-free version just sub in 1 Tbsp extra virgin olive oil here)
⅛ tsp cayenne pepper
¼ cup chicken stock
For Sauce:
½ cup dry white wine
½ cup chicken stock
2 Tbsp Dijon mustard
4 garlic cloves, smashed and chopped
Instructions
Trim outer fat from pork chops.
Lay each pork chop flat and make a slice horizontally at about ⅓ of the thickness of the chop, going through to within about ½ inch of the edge.
Fold out the flap you've made.
Now starting at the center, slice horizontally into the middle of the thick side of the chop and again go to within a ½ inch of the edge.
Fold out the second flap you've just made, so that you now have a cutlet ⅓ the thickness of the original chop and 3 times the width (what I called "tri-butterflied" in the post).
Confused? Take a look at my husband's nifty diagram below.
Cover the cutlets with plastic wrap and pound them with a meat tenderizer (not the spiky side) or a scrap piece of wood to about ⅛ to ¼ inch thickness. (For a neat do-it-yourself meat tenderizer see my last post.)
To make the stuffing, just mix the ingredients, parsley through chicken stock well.
Spread the stuffing on the cutlets all the way out to the edges, except leave ½ to ¾ inch without stuffing along one short side.
Starting on the stuffing-covered short side, roll them up, (so you finish rolling where the meat is not covered with stuffing).
Tie with string.
Place ⅓ cup sweet rice flour in a shallow bowl and dredge rolls in flour to coat them.
Heat 2 Tbsp oil in a large skillet over medium high heat and brown pork rolls on all sides.
Remove rolls from pan.
Add ½ cup white wine, ½ cup chicken stock, 2 Tbsp Dijon mustard and 4 smashed/chopped garlic cloves to pan.
Bring it to a boil as you scrape the bottom of the pan with a wooden spatula to release all those tasty browned bits.
Add pork rolls back to pan.
Reduce heat, cover and simmer for 20 to 25 minutes to an internal temperature of 155 degrees F.
Remove stuffed pork rolls and cut string from rolls.
Slice into about ⅜ inch thick slices and serve with pan sauce.