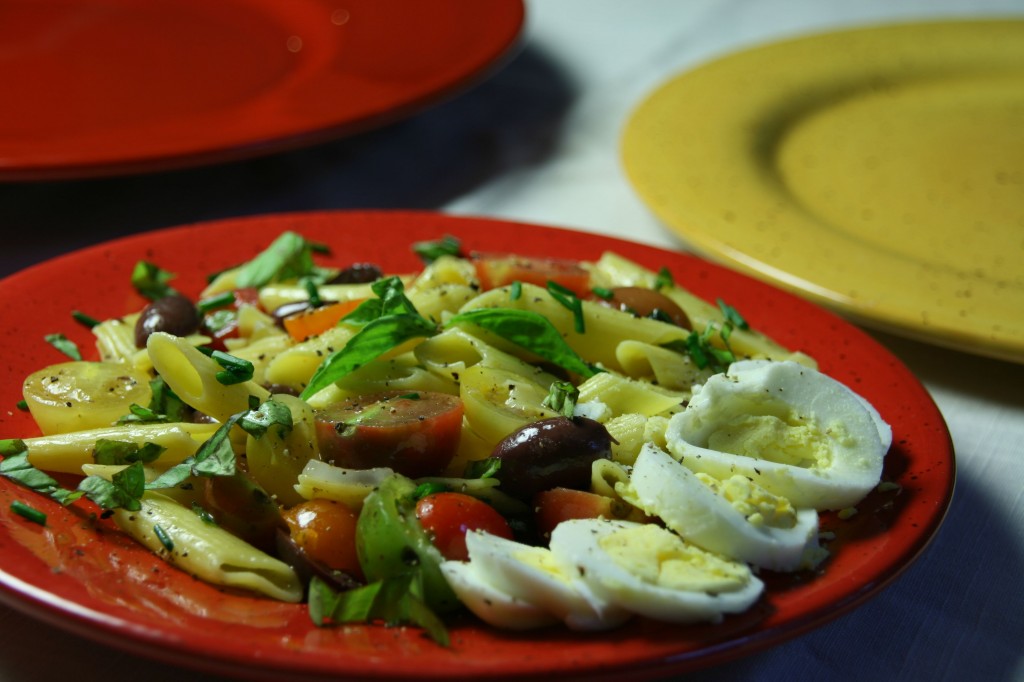 The sun is getting noticeably lower in the sky. And the hot, humid Southeastern weather is giving way to dry, comfortable 70-80 degree days. I can't say I'll miss the heat, but boy, will I miss tomatoes fresh from a local farm or the backyard. There's nothing like their sweet, oh-so-tomatoey taste! So let's savor their goodness while we can!
So many tomato varieties!
There are so many flavorful, colorful varieties available now.  This salad uses pretty multi-colored cherry tomatoes. I get them from Papa Spuds, a wonderful weekly produce box delivery service that pools produce from many local farms. I have seen multicolored local cherry tomatoes in some grocery stores, but if you can't find them substitute the red variety.
The fresh tomato flavor shines in this recipe!
The stars of this pasta salad are the bright, sweet tomatoes. The red onions and garlic are essentially pickled in the dressing bringing out their sweetness and softening their bite. Hard-boiled eggs make this a full meal but another great possibility my husband suggested was adding salad shrimp instead or maybe both eggs and shrimp.
Serving slightly warm or at room temp rather than cold really brings out the flavors. Tomatoes lose their sweetness and texture when refrigerated. If you like you can crumble some feta cheese on the salad – it's great with or without!

Summery Cherry Tomato Pasta Salad
Cuisine:
American/Mediterranean
Ingredients
½ cup extra virgin olive oil
½ cup white wine vinegar
1 Tbsp sugar
¼ tsp salt
½ tsp ground pepper
2 cloves garlic, minced
⅓ cup sliced red onion, (slices cut in ¼'s)
1 pint cherry tomatoes (multi-colored if available)
1 cup Kalamata olives
12 large leaves fresh basil
8 oz gluten-free pasta (penne or shells)
6 hard-boiled eggs
Instructions
For the dressing, mix oil, vinegar, sugar and salt and pepper in a small sauce pan. Bring to a boil, add red onions and garlic and remove from heat.
Let sit an hour.
Cut cherry tomatoes and olives in halves.
Peel the eggs, chop 3 coarsely and slice the other three.
Cook pasta according to package directions but taste a piece a couple minutes before it's due to be done. You want it al dente, just cooked but still firm. Cooking gluten-free pasta the full time on the package often leads to limp or mushy pasta. Drain in a colander and rinse with cold water. Drain briefly. You want to get the dressing on it fairly quickly before it sticks together.
Whisk dressing and add to pasta along with tomatoes, olives and chopped egg. Toss to coat.
Julienne basil by stacking leaves, rolling them up and slicing, and mix in.
To serve arrange salad on plates with a few slices of egg along the side.
Some small basil leaves make a nice garnish.