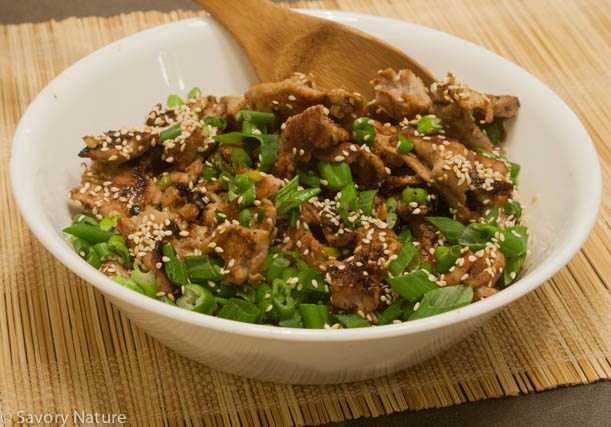 Bulgogi is a Korean dish usually based on marinated grilled beef although it is sometimes also pan-seared. My husband came across a recipe at Sommer Collier's blog: A Spicy Perspective. We love Asian food and decided to adapt the recipe to be gluten and soy-free. It calls for Sriracha but we opted for some white pepper to make it nightshade-free for our daughter and then just put Sriracha on the table for those who could indulge. Although the recipe called for lean steak, we opted for pork tenderloin and it was tender and delicious.
This Pork Bulgogi uses a great new soy-free soy sauce substitute!
We made a great discovery recently at Whole Foods Market (refrigerated part of the produce section) that enabled this dish: Miso Master brand organic soy-free chickpea Miso. We mixed it with a little fish sauce and water and it imparted a flavor to the dish very much like soy sauce. We just loved it!
You can serve Bulgogi over rice as we did or wrap it in lettuce wraps. The wraps are traditionally often served with a spicy soy/chili based sauce called Ssamjang, but I think Chinese hot mustard would be a great gluten, soy and nightshade-free dipping alternative. I'm not sure if store bought prepared Chinese mustard is nightshade-free because spices are generally listed as an ingredient which might mean hot pepper, but you can make your own easily from either dry hot Chinese mustard, or even Coleman's dry mustard does just fine, and I've included a recipe.

Pork Bulgogi – Gluten-Free, Soy-Free with Nightshade-Free Option
Ingredients
1 pork tenderloin (about 1 ½ lbs)
3 Tbsp cooking oil (peanut, canola or rice bran oil)
1 Tbsp chickpea Miso
1 Tbsp fish sauce
water
2 ½ Tbsp brown sugar
2 Tbsp sesame oil
3 cloves garlic, minced
1 Tbsp fresh grated ginger
1 bunch green onions, chopped, whites and greens separated
½ tsp black pepper
½ tsp white pepper (if you're ok with nightshade vegetables/peppers you can use 1 tsp Sriracha here instead of the white pepper)
1 Tbsp toasted sesame seeds
Instructions
Trim fat and silver skin from tenderloin and slice it very thinly crosswise.
Place 1 Tbsp chickpea Miso and 1 Tbsp fish sauce in a measuring cup and fill to ⅓ cup line with water. Mix and pour into a large bowl.
Add brown sugar, sesame oil, garlic, ginger, onion whites, black pepper, white pepper (or Sriracha if nightshade tolerant) and mix.
Add pork to bowl and toss well to coat. Allow to marinate 45 minutes to an hour.
Heat a large skillet to high heat with 1 ½ Tbsp cooking oil.
Use tongs to transfer half of meat to skillet leaving marinade behind.
Spread meat around and allow to sear on one side before turning pieces and cooking through.
Remove to a serving bowl and cover to keep warm.
Heat remaining 1 ½ Tbsp oil and repeat procedure with remaining pork.
Sprinkle with reserved green onion tops and sesame seeds and serve over rice or with lettuce wraps and the sauce of your choice.
Notes
To prepare Chinese hot mustard, combine ¼ cup dry mustard, ¼ cup cold water, and 1 Tbsp cooking oil. It is best used fairly quickly. It will peak in heat at around 15 minutes and then start decreasing. If you want to soften the bite a little you can add 1 tsp sugar.