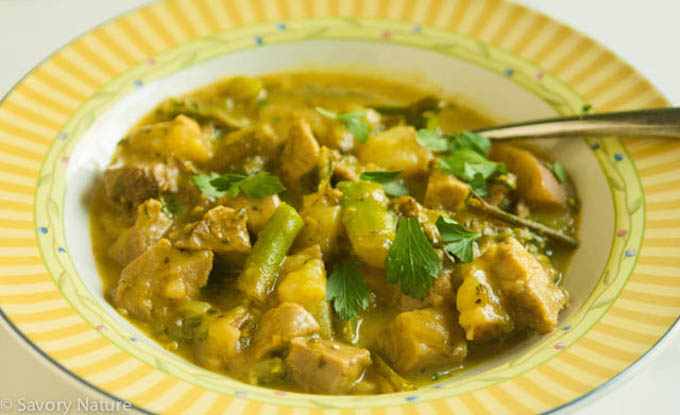 A great roast makes a wonderful holiday meal, but there's often more roast than meal. With Easter just passed, I'm guessing there's a lot of leftover roast lamb out there looking for a creative repurposing. Hubby and I were pondering this exact predicament last night when he said, "How about a curry?" This was an especially great idea, because one, we love Indian food, and two, I could also throw in the leftover potatoes and veggies from Easter and make it a totally new exotic one-dish meal!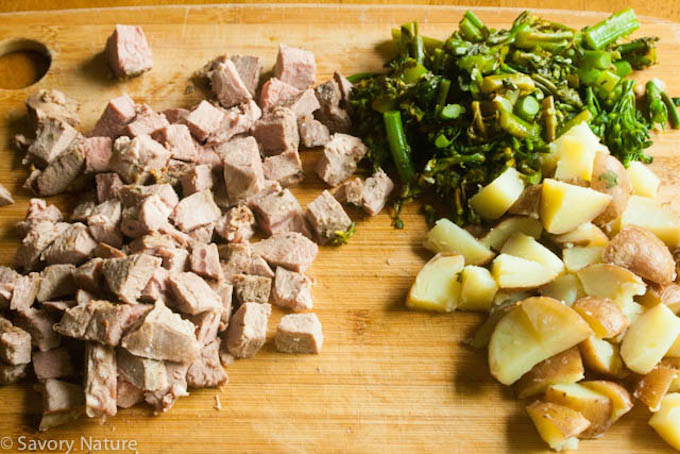 Fill out this Leftover Lamb Curry with the vegetables of your choice.
I used cooked red potatoes and broccolini that we had left over from Easter dinner, but really any green vegetable will do, asparagus, green beans, peas, spinach – use what you have. If you don't have cooked potatoes, you can dice up some fresh ones and just cook them in the broth for 20 minutes, mash about a quarter of them with a masher and then add your lamb and veggies and yogurt. For a nightshade-free version, this will work equally well with sweet potatoes – just leave out the cayenne pepper or substitute an equal amount white pepper for a nightshade-free heat. I made this dairy-free by using coconut yogurt. We happened to have a couple Tablespoons of parsley butter (margarine really) left from Easter dinner (red potatoes with parsley butter is a favorite from my husband's youth) and I threw that in too, but definitely not a necessity.
The spicy, floral broth transforms leftovers into a truly special meal!
Onion, garlic, ginger, cumin, coriander, cardamom and turmeric give this lamb curry an authentic Indian flavor. I used green cardamom pods – cardamom retains its flavor better in this form, but if you have ground cardamom you can substitute ½ tsp. To release the seeds from the green cardamom pods, hold one end of the pod on the counter and tap the other end with a wooden spoon to break it (they're not very hard and will break quite easily). Then just tear open the pod over the pot and brush in the seeds. In India, spices are always cooked or "bloomed" in oil to bring out their flavors before liquid is added.
Starting with leftover lamb, potatoes and vegetables means this curry comes together in no time!
We start here by sautéing a chopped onion, and then add the spices and stir for a minute. Next come the garlic and ginger. We stir another minute and then add 2 cups chicken stock scraping the bottom of the pot to release all the flavorful browned bits. To thicken the broth, add about ½ cup of the cooked potatoes and mash them with a masher. Season with salt and pepper. Heat and simmer a few minutes, add the remaining potatoes and then a couple minutes later, the lamb, veggies and a little yogurt. Simmer just a minute or two until heated through and serve.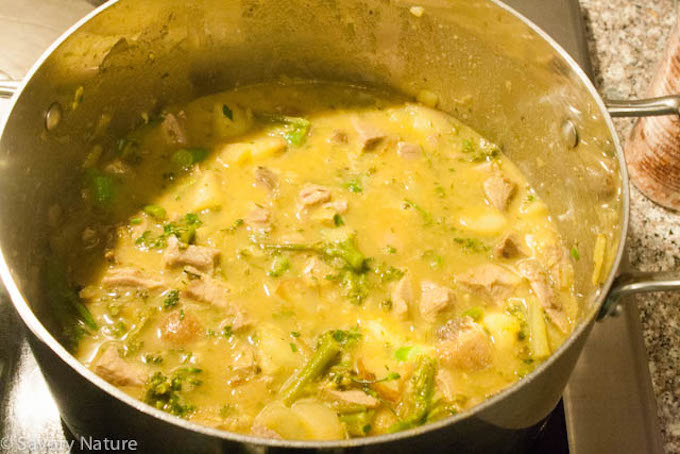 My daughter told me this dish was even better than Easter dinner! Not sure how to take that (was Easter dinner not that great?), but I know she favors one-dish meals over the meat and sides approach and she likes spice. So I'll just be happy knowing I took leftovers, and elevated them to better-than-holiday goodness!

Leftover Lamb Curry
Ingredients
2 cups ½-inch-cubed cooked, trimmed lamb
2 cups cooked potatoes, cut in ½ inch pieces, divided
1 ½ cups cooked green vegetable, chopped in 1 inch pieces (such as broccolini, broccoli, green beans, peas – fresh spinach could also be wilted in the finished broth)
Meat and vegetable quantities are flexible.
2 Tbsp olive oil
1 medium onion, chopped
3 green cardamom pods (if unavailable, use ½ tsp ground cardamom)
1 tsp ground cumin
1 tsp ground coriander
½ tsp turmeric
¼ tsp cayenne pepper (optional)
½ inch long piece ginger root, peeled and grated
2 large garlic cloves, minced
2 cups chicken stock
¼ tsp salt
freshly ground black pepper to taste
¼ cup plain coconut yogurt (or any plain yogurt you prefer)
Chopped parsley or cilantro for garnish (optional)
Instructions
Heat 2 Tbsp olive oil over medium high heat in a large pot.
Add chopped onion and sauté about 2 minutes until tender.
If using green cardamom pods, hold each pod on counter and tap with a wooden spoon to break pod. Tear pod open over pot and brush in seeds. Otherwise add ground cardamom.
Add rest of spices: cumin, coriander, turmeric, and cayenne if using.
Cook spices stirring 1 minute.
Add garlic and ginger and stir about another minute until aroma comes.
Add chicken stock, salt and pepper and scrape bottom of pan to release browned bits.
Add about ½ cup of the potatoes and mash into broth with a potato masher.
Bring to a boil, reduce heat and simmer 4 minutes.
Add rest of potatoes and simmer 2 more minutes.
Add lamb, green vegetables and yogurt and simmer another 2 minutes until heated through.
The curry can be served over rice, but is also substantial enough on its own.
Garnish with chopped parsley or cilantro if desired.
Notes
Sweet potatoes could sub for the white potatoes here. And white pepper could substitute for the cayenne pepper making the dish nightshade-free. Another alternative, leave out the cayenne and let people add hot sauce individually at the table (what we did).

If you've got leftover lamb, but not the veggies, just cook fresh veggies in the seasoned broth for the appropriate time (about 20 minutes for the potatoes, a few minutes for the green veggies) before adding the lamb and yogurt.