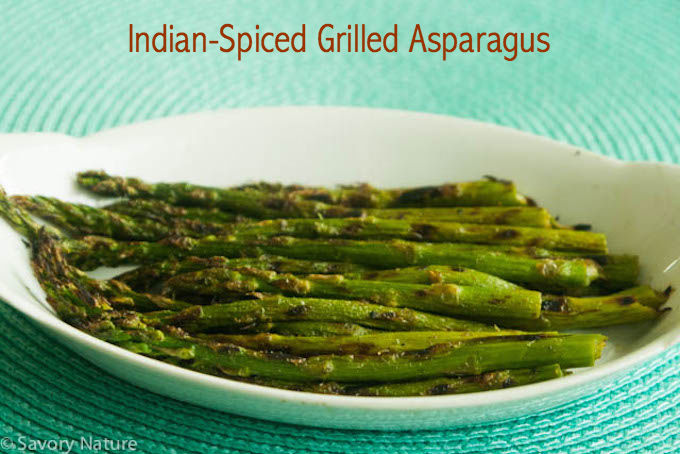 Asparagus is such a spring-time treat! And with spring comes warm weather and the urge to grill! Grilling asparagus is a great way to bring out its flavor, while keeping it crisp.
Indian spices perfectly complement the smoky grilled asparagus.
Grilled asparagus can be done simply tossed with a little olive oil and salt, but an Indian friend, Nitya Mallikarjun, recently shared a stir-fried Asparagus Masala recipe with us. We thought, wouldn't the same spices be great on grilled asparagus?! And indeed, they are! They complement and bring out that smoky grilled asparagus flavor without overpowering it.
The Simple Indian-Spiced Grilled Asparagus Recipe
To prepare the dish, mix the spices with extra virgin olive oil, microwave and let it sit a few minutes to help the volatile flavors from the spices infuse the oil. Snap the tough ends off the asparagus, rinse, dry with paper towels, and toss it well with the spiced oil. Let the asparagus sit while the grill heats up, and then grill on high, cover down, about 5 minutes, turning halfway through until the asparagus has grill marks on both sides and is just cooked.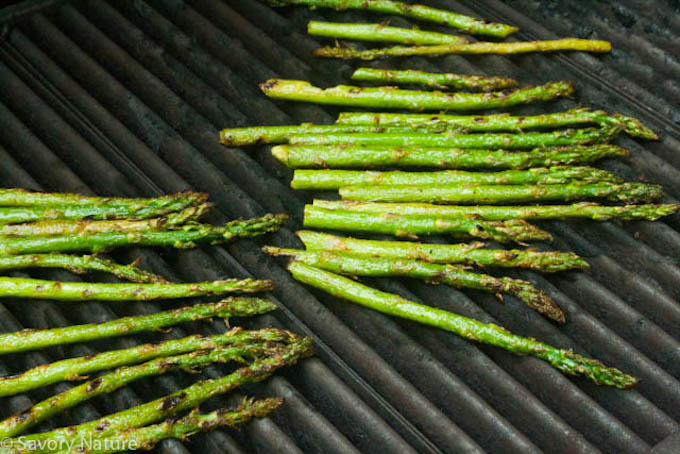 We've played around a bit with the best way to handle turning lots of asparagus spears on the grill. You can run a skewer through the bottoms, so you can grab several at a time and turn them on the grill. This works reasonably well, but if the spears are very thin, sometimes they'll break as you're skewering them.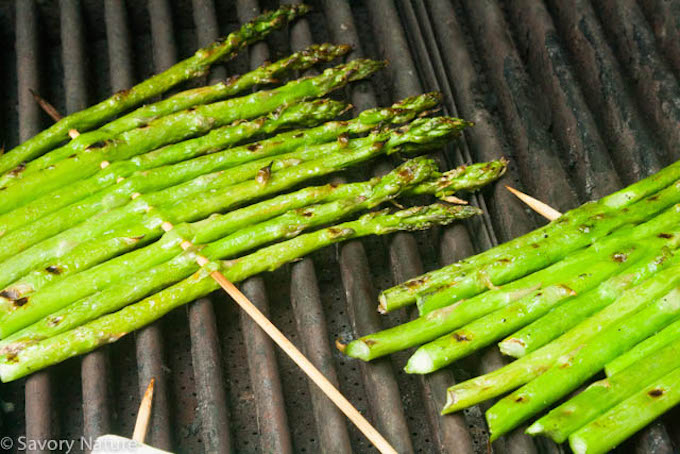 We found it even easier not to skewer at all, but to use a long spatula and tongs. Lift several spears at a time off the grill with the spatula and use the tongs to hold them on the spatula as you flip them over. That way if some spears cook faster than others, you can handle them individually, too.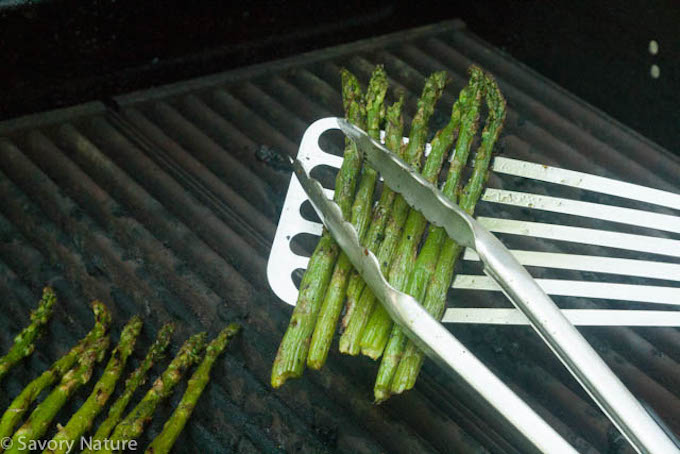 I love simple spring/summer time recipes. This Indian-spiced Grilled Asparagus is so easy and really lets the asparagus shine!

Indian-Spiced Grilled Asparagus
Ingredients
1 bunch asparagus
3 Tbsp extra virgin olive oil
¼ tsp crushed red pepper flakes
¼ tsp garam masala
½ tsp ground coriander seed
⅛ tsp ground cumin seed
⅛ tsp ground cayenne pepper
Salt to taste
Instructions
Combine oil with crushed red pepper flakes in a small microwave-safe bowl.
Microwave on high 40 seconds.
Add garam masala, coriander, cumin and cayenne pepper.
Microwave another 40 seconds.
Stir and let sit. (For a nightshade-free version, skip the crushed pepper and cayenne, substitute ⅛ tsp white pepper and microwave the spice/oil mixture 60 seconds.Usually garam masala does not have chilis in it, but check ingredients to make sure.)
Rinse asparagus and snap off tough bottom ends.
Dry well with paper towels.
Toss asparagus with spiced oil in a large bowl/dish so it's well-coated and set aside.
Heat grill on high.
Grill asparagus on high with cover down about 2-3 minutes until it has grill marks on underside.
Turn, and grill, cover down, about another 2-3 minutes until charred and just cooked.
Sprinkle lightly with salt and serve.