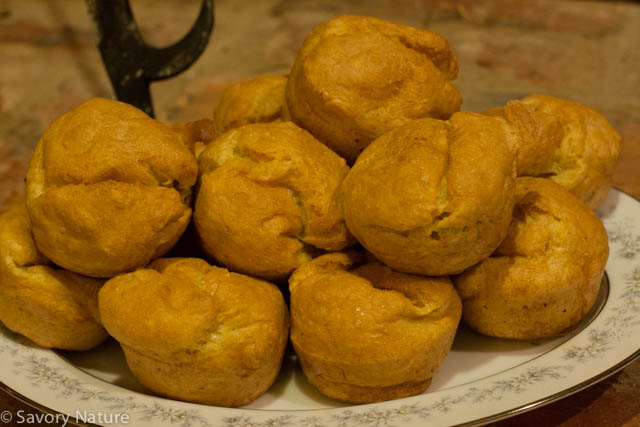 This is a repost from last year. I know from the swarm at the grocery store this morning that a lot of folks have a standing rib roast for Christmas dinner. And Yorkshire pudding is a classic accompaniment that you don't have to give up if you eat gluten free. We've been enjoying this pairing for years on Christmas day going back to before we had any problems with gluten or dairy intolerance. My daughter and I have been on a gluten free diet for 10 years now and she's been dairy free for a few years so I've had plenty of time to experiment with my Yorkshire pudding recipe. If you're having a rib roast you may also want to check out my post on cooking perfect prime rib.
Special Gluten-Free Flour Mix Makes This Yorkshire Pudding Moist and Airy on the Inside and Nicely Browned on the Outside!
I've played around with the flour combinations quite a lot and have come up with something that we like even better than the old traditional wheat flour and milk recipe. I use a combination of white rice flour and sweet rice flour (also called glutinous rice flour because it's sticky) both of which I get at an Asian market, and then potato starch, tapioca starch and amaranth flour. The addition of the sweet rice flour helps give the Yorkshire pudding a nice moist pudding-y texture on the inside and the amaranth flour which browns quickly gives it a nice brown exterior.
A Store-Bought Gluten-Free Flour Mix Will Work, Too.
If you don't want to fuss with all the different flours, you could buy a gluten-free flour mix. I gave it a try with Bob's Red Mill's all-purpose gluten free flour mix, which is a combination of bean flours, tapioca flour, potato starch and white sorghum flour. It rose and browned about the same and was good. We did a family side-by-side comparison and preferred my mix. The flavor is lighter and the texture is more delicate and moist – more like a pudding. The Bob's Red Mill was a little tougher, more bread-like and had a bit stronger flavor.
One Large Pan or Individual Yorkshire Puddings?
You have the option of baking it in a casserole dish or making individual puddings using a muffin tin. In the large casserole dish it rises but it won't get those big bubbly fluffs like the wheat and milk based version. I've always done it that way in the past and we've always enjoyed it. This year I decided to also try the muffin tin approach. The puddings rise much more this way and are prettier. My family voted that they liked the individual puddings even better than the casserole version.
Yorkshire Pudding Tips
We generally serve this with a prime rib roast. You use the fat that renders from the roast to cook it in. Alternatively you could use bacon fat or even oil, but the beef fat is traditional and gives the pudding a nice flavor and a lot of it will not actually be incorporated into the pudding – it will be left in the pan. The pan has to be hot and the fat has to be smoking hot when you pour the batter in. So put your pan in the oven with the fat in it as you preheat.
It's a matter of controversy whether the batter should stand a half hour to an hour before baking. Some people say it helps it rise. Others say it doesn't matter. I generally do let it sit. If nothing else, if you used cold eggs and maybe cold almond milk too, it gives it a chance to warm up so it bakes more quickly.
One more tip: do not open the oven while the pudding is baking or it will fall – use your oven light to check on it.
Yorkshire Pudding and Au Jus Were Made for Each Other!
Serve your Yorkshire pudding immediately when it comes out of the oven. Soak up some Au Jus with it and you'll see why Yorkshire pudding is such a popular English dish!

Yorkshire Pudding – Gluten-Free Dairy-Free Soy-Free!
Ingredients
½ cup white rice flour
½ cup sweet rice flour (also called glutinous rice flour)
½ cup amaranth flour
¼ cup potato starch (not flour)
¼ cup tapioca starch
2 tsp xanthan gum
1 tsp salt
4 large eggs
2 cups almond milk
¼ cup melted beef fat
Instructions
Mix all dry ingredients in a large bowl.
Whip eggs and almond milk in a separate bowl until well mixed.
Pour egg mixture into dry ingredients and whisk well to combine.
Let stand a half hour to an hour if you have time.
Put ¼ cup melted fat in a roughly 13 X 9 inch ovenproof casserole dish or put 1 tsp melted fat in each cup of a 12 cup muffin tin.
Put the pan in the oven as you preheat it to 425 degrees F.
Once the fat begins to smoke, remove pan from oven and quickly pour batter in. For the casserole dish, swirl it around to level batter. If using a muffin tin, pour about ¼ cup batter into each cup. You can place the muffin tin over hot burners on the stove as you fill the cups to keep the fat hot. Try to work quickly.
Return to hot oven and bake about 30 minutes until risen and browned. Do not open the oven door while the pudding's baking or it will fall.
Serve immediately.