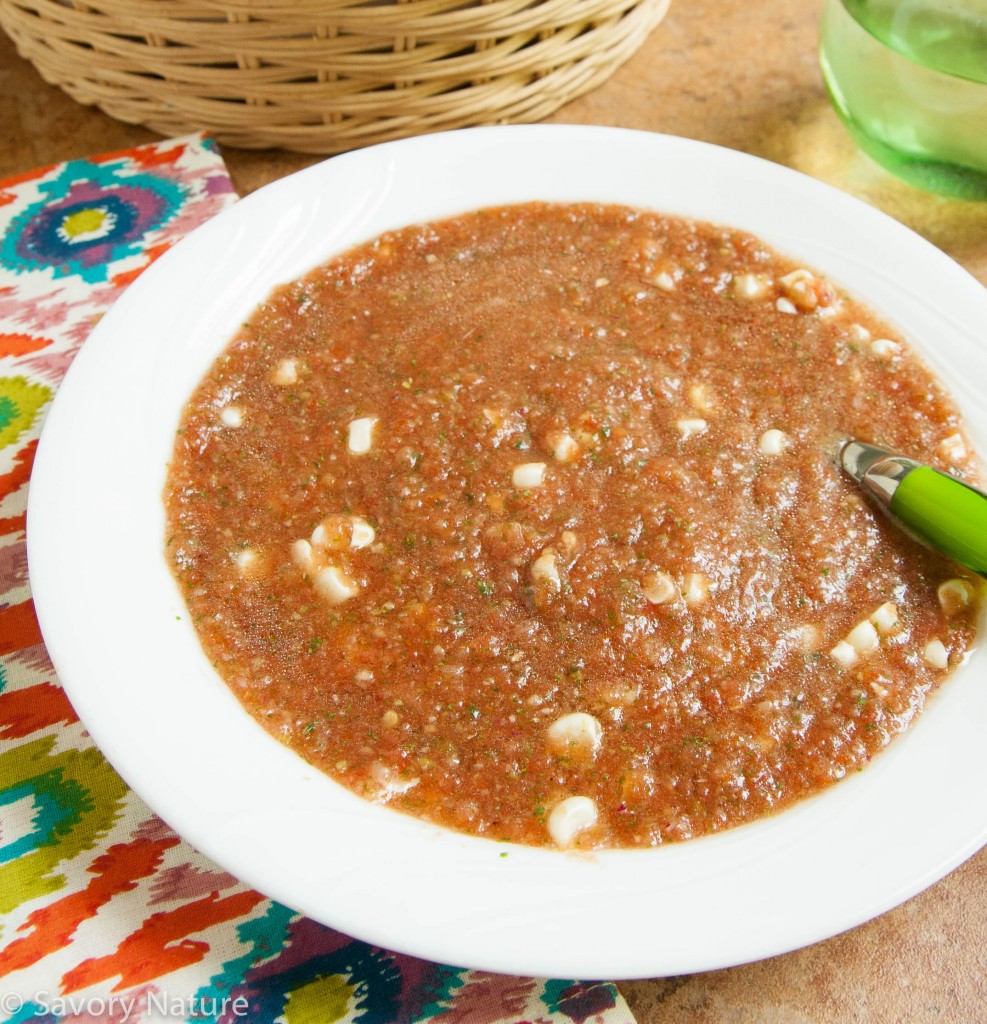 There's nothing that says summer so much as Gazpacho! It's a celebration of those wonderful fresh juicy tomatoes of summer! Add in cucumbers, peppers, celery, and red onion and it's a vegetable extravaganza!
I decided to take this Gazpacho in a Southwestern direction with Poblano and Jalapeno peppers, fresh corn, cilantro and a little lime juice. The flavors are awesome: the bright acidic tomatoes, vinegar and lime with all the fresh veggies, a pop of sweetness from the corn and a hint of cilantro in the background – so good!
Another great thing about Gazpacho is it's easy – just coarsely chop the veggies and pop it all in the processor! There is nothing more refreshing than a cold bowl of Gazpacho on a warm summer day!

Southwestern Gazpacho
Ingredients
10 ripe Roma tomatoes or a similar amount of slicing tomatoes
½ red onion
2 stalks celery
1 cucumber, peeled and seeded
1 Poblano pepper, seeded
1 Jalapeno pepper, seeded and membrane removed
½ bunch cilantro leaves
½ cup red or white wine vinegar
Juice of half a lime
¼ cup extra virgin olive oil
½ tsp salt
freshly ground black pepper to taste
4 cups tomato juice
2 ears of corn, kernels stripped from cobs
Instructions
Chop vegetables roughly, except for corn.
Combine all ingredients except corn in processor and process until very finely chopped. You may have to work in a couple batches as there is a lot of volume.
Add corn kernels and stir to mix.
Refrigerate for at least a couple hours.