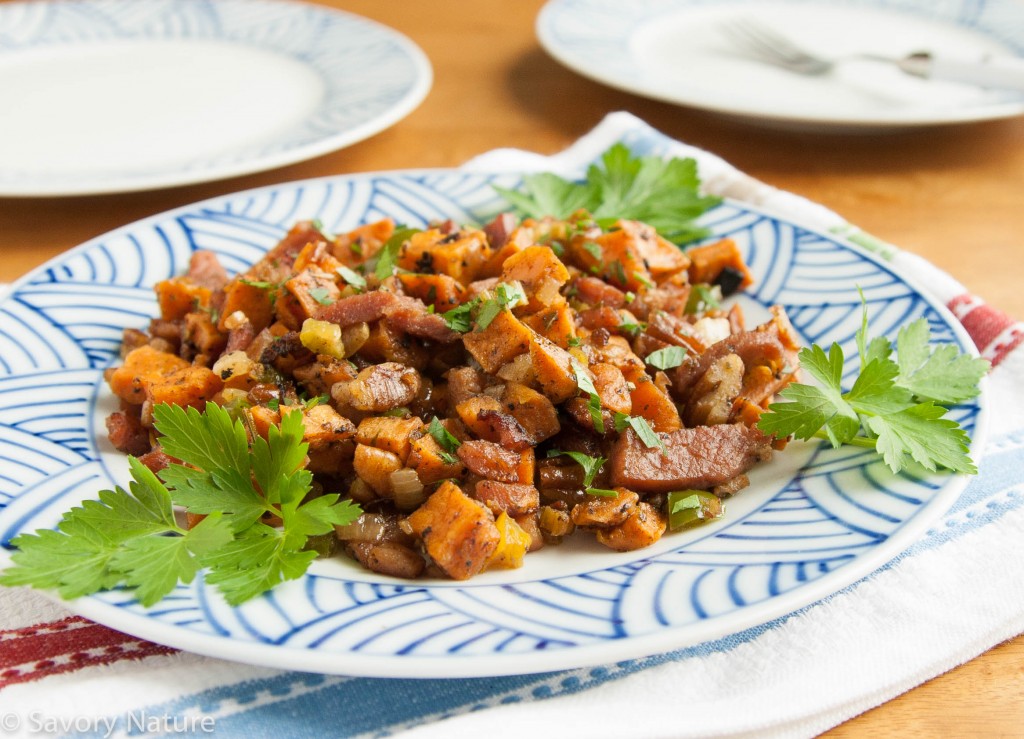 This is the second of my "What can you do with leftover ham offerings?" The measurements are going to be a little loosey-goosey with this hash. Truth be told, hubby made it (the sweet potatoes were my suggestion – have to take a little of the credit ☺). And it didn't get written down right away – that's how the holidays are – a little hectic and disorganized. And hash is the perfect meal for those "no time for fancy cooking days".
We have crowned my husband the King of Garbage Cuisine – he is a master of turning leftovers into palate-pleasing wonders! Well, he nailed it with this one! Hash is kind of a "throw whatever 's in the refrigerator" in it sort of dish. This hash is no exception, so the measurements are only a guideline and feel free to mess with the ingredients, too – for instance I could see some leftover broccoli working in this. The base is really the sweet potato and ham. And the onion is kind of a must.
My Mom was with us for a little over a week for Christmas. We served this Ham and Sweet Potato Hash one night (after Orange Bourbon Glazed Ham for my son's graduation and of course for a blog post), and she loved it. It's got a sort of down-home relax and enjoy the goodness kind of feel.
If you're feeling like a meal on the informal side for a change, and have ham to use up, give this Ham and Sweet Potato Hash a whirl. It will leave you satisfied, and well nourished!

Ham and Sweet Potato Hash
Ingredients
2 smallish sweet potatoes, peeled and chopped in ½ inch pieces
3 Tbsp olive oil, divided
Salt and black pepper to taste, divided
¼ tsp dried thyme leaves
1 sprig fresh rosemary, leaves stripped and chopped or ¼ tsp dried rosemary
½ cup chopped pecans
1 yellow onion, chopped
⅓ to ½ each of a green bell pepper and a yellow bell pepper (or whatever bell pepper you have around)
1 ½ to 2 cups chopped ham
2 Tbsp finely chopped parsley (optional)
Instructions
Preheat oven to 400 degrees F.
Toss chopped sweet potatoes with 1 ½ Tbsp oil, salt and black pepper to taste, thyme and rosemary in a large bowl.
Spread sweet potatoes on a foil-lined baking sheet and roast for 25 minutes at 400 degrees F.
Toast pecans over medium to medium-high heat in a large skillet.
Transfer pecans to a large serving bowl.
Heat remaining 1 ½ Tbsp oil in the same large skillet over medium high heat.
Add onion and pepper and sauté about 5 minutes.
Add roasted sweet potatoes and ham, and sprinkle with salt and pepper to taste. Cook, tossing frequently about 5 - 10 minutes.
Transfer to bowl with pecans, add parsley if using, toss and serve.