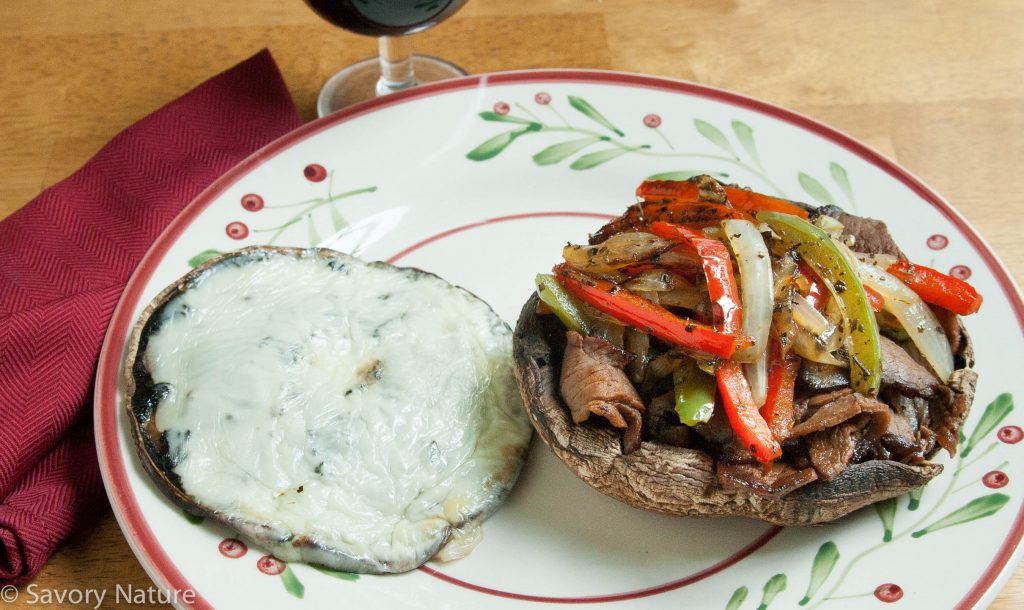 My hubby, who's from Philadelphia, invented the ultimate low-carb sandwich: the Philly Cheese Steak on Portobello Mushroom "Buns". It is so easy to make – great for the lazy days of summer. You won't believe how rich, juicy and yummy it is! If you love portobello mushrooms, you will love this sandwich!
You just scoop out the gills from the mushroom caps, and broil them a few minutes. Saute up some onions and peppers. Saute some chopped deli roast beef with a little soy sauce, sherry and tomato paste. Top the mushroom/bun tops with slices of provolone cheese, and put them under the broiler until the cheese melts. Pile some roast beef and peppers and onion on the bottom"buns". Press the cheesy cap on top of the veggies and beef and eat it like a sandwich.
Have some extra napkins and a plate underneath to catch the drippings from this juicy sandwich treat! Chow down on these Philly Cheese Steaks sans bread, and prepare to be amazed at how awesomely delectable they are!

Philly Cheese Steaks on Portobello Mushroom "Buns"
Ingredients
½ pound sliced deli rare roast beef, sliced in ½ inch widths
4 Portobello mushroom caps
2 slices provolone cheese
1 ½ Tbsp olive oil
½ red bell pepper, sliced
½ green bell pepper, sliced
1 onion, sliced lengthwise
½ tsp dried oregano or 1 tsp fresh oregano
1 tsp soy sauce
1 tsp tomato paste
1 Tbsp dry sherry
Instructions
Preheat broiler on low and broil mushroom caps for about 4 minutes about 8 inches from the element until they're somewhat softened and juicy.
Place a slice of cheese on each of 2 mushroom caps and broil until cheese is melted.
Saute peppers and onion with oregano in 1 ½ Tbsp olive oil about 5 minutes until softened. Remove to a bowl or plate.
Cook roast beef with soy sauce, sherry and tomato paste about 2 minutes until heated through.
Pile some roast beef and peppers and onions on plain mushroom caps.
Top with cheesy mushroom caps and eat like a sandwich.