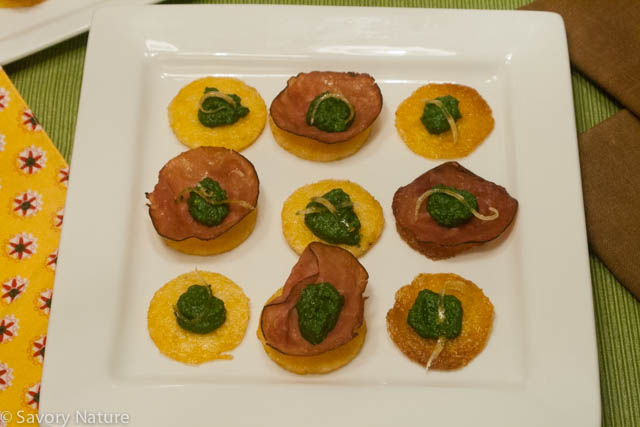 Polenta rounds make a great gluten-free appetizer that anyone will love, gluten-sensitive or not. They're crunchy on the outside, creamy on the inside and you can top them with pretty much anything. I posted about them over the holidays with a few topping suggestions.
Spinach Basil Pesto Polenta Appetizers – rich, creamy and dairy-free!
This spinach basil pesto is my new favorite topping! Most of my previous topping suggestions involved cheese. You could use Daiya dairy and soy-free cheese as a substitution if you're allergic, but when serving these to guests, not everyone is going to like Daiya. This spinach basil pesto topping is naturally dairy-free (and soy-free) and it's so rich and creamy that there's no need for cheese here.
Candied lemon peel is the finishing touch to these Spinach Basil Pesto Polenta Appetizers.
You can add some ham or prosciutto underneath the pesto if you like, but it's not necessary. We made a few with ham and a few without. These pesto polenta appetizers are topped with some candied lemon peel, which dresses them up and adds a nice bright, sweet note.
These Spinach Basil Pesto Polenta Appetizers are easy to make and will impress!
The polenta rounds are easy to make – just slice them from a tube of polenta and bake. And the spinach basil pesto whips up quickly in a processor – just a few ingredients. Because it's mostly spinach, it doesn't turn brown like a basil pesto so feel free to make it a day ahead if you like and refrigerate it. The candied lemon peel is pretty easy, too. I've adapted what's usually a stove-top recipe to the microwave for less mess and quicker preparation. The candied lemon peels need to dry for 2-3 hours and you can make them a day or two ahead (or up to a week) if you want, freeing you up to do other things around party time.
Extra Spinach Basil Pesto – Yay!
You will have extra spinach basil pesto. There's no point in making just a tiny bit of pesto! You could do more pesto polenta appetizers – if you'll have a couple trays of them in the oven, put them in the lower and upper thirds of the oven and rotate them during baking. This spinach basil pesto also makes a great topping for spaghetti or spaghetti squash – figure about ¼ cup pesto per serving. (I'll be posting a recipe for Spaghetti Squash with Spinach Basil Pesto soon.) It makes a great sandwich spread, too. One final idea: mix it with a little mayo and/or yogurt and perhaps a touch of lemon juice and it could make a great dip for veggies or chips. If you're not going to use it right away just freeze it – I often freeze it in ice cube trays so I can take out just the amount I need.

Spinach Basil Pesto Polenta Appetizers
Ingredients
Candied Lemon Peel
1 lemon
water
1 cup granulated sugar
Spinach Basil Pesto
5-6 oz baby spinach leaves
.66 -.75 oz package fresh basil
2 medium garlic cloves
⅓ cup pine nuts
2 Tbsp extra virgin olive oil
2 Tbsp canola oil (I like to use this combination of oils for the flavor and health qualities of the extra virgin olive oil as well as the healthy omega-3 fats in the canola oil, but you can use all extra virgin olive oil if you like.)
¾ tsp salt
generous grind of black pepper
Polenta Rounds
1 tube of polenta
About 3 Tbsp olive oil
Sliced ham or prosciutto if you like (optional)
Instructions
Candied Lemon Peel
Remove swaths of peel from the lemon with a peeler, trying to just get the outer yellow section of the peel and as little of the white pith as possible.
Slice peel into very thin julienne strips.
Place in a bowl or glass measuring cup that will hold 2 cups and fill with about 1 cup of water.
Microwave on high 3 minutes – all microwaves are different but they need to boil about a minute.
Pour into a strainer to drain liquid and rinse peels.
Add back to bowl/measuring cup and repeat procedure with another cup water.
Drain, rinse and repeat a third time.
Drain, rinse and add back to bowl/measuring cup with 1 cup water and 1 cup sugar.
Microwave on high 2-3 minutes to bring to a boil and then microwave on about 7 power for 10 minutes to simmer.
Drain in a strainer (do not rinse) and spread on a rack to dry for 2-3 hours.
Keep in an airtight container if not using right away.
Spinach Basil Pesto
Place about half the spinach (as much as will fit) in the processor and process. Add more spinach successively until it all fits.
Add the rest of the ingredients: basil through black pepper and process until fairly smooth, scraping down sides with a spatula as necessary.
Polenta Appetizers
Preheat oven to 425 degrees F with a sheet pan in the oven.
Slice polenta tube into rounds ¼ inch thick.
Remove pan from oven.
Pour in about 3 Tbsp oil and spread to coat.
Spread rounds in pan and bake 25 minutes.
Flip over and bake 15 minutes. (If the rounds near the edges of the pan are browning faster, rearrange them.)
If you're putting ham on, do it when you flip them. If you're putting prosciutto on, put it on after 5 minutes. Both will shrink and crisp as they bake.
Fifteen minutes after flipping, top each round with a dollop of spinach basil pesto and bake another 5 minutes (don't put the lemon peel on until they're done – it will burn).
Remove from oven, top each round with a piece of lemon peel, and serve immediately.
Notes
Keep any leftover candied lemon peel in an airtight container for 1-2 weeks. They're great sprinkled on salads or creamy soups or baked goods.