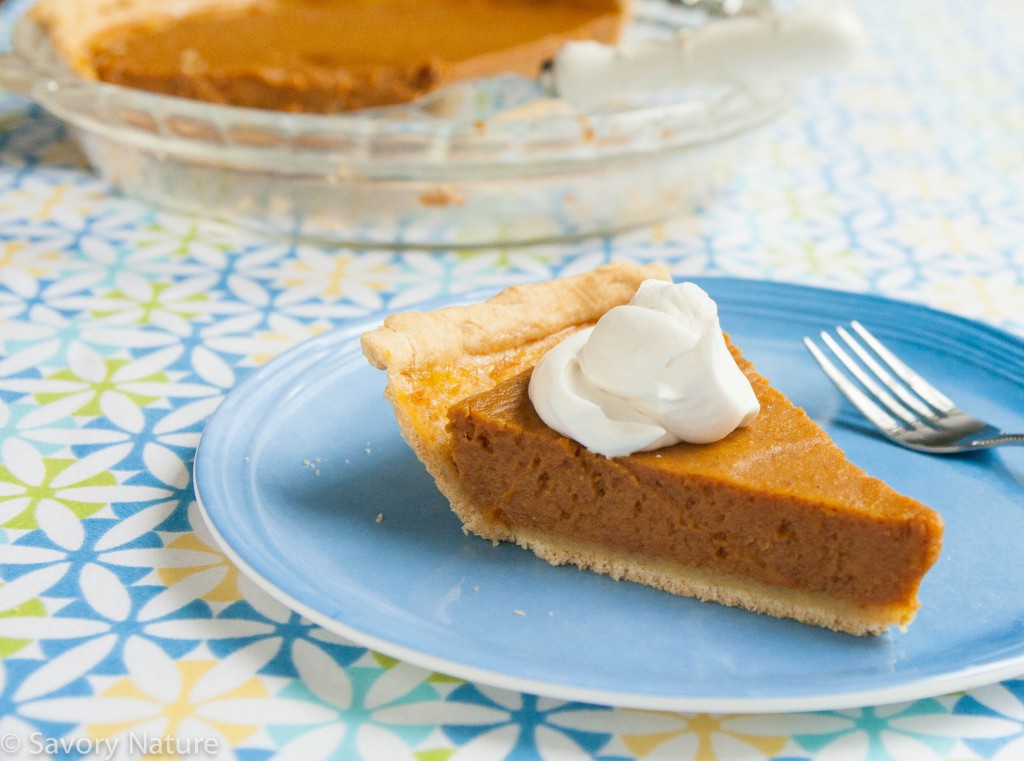 It's early November, and the great feast that is Thanksgiving will be here before we know it. Have you started planning your menu yet? In preparation for the holiday, I will be posting Thanksgiving recipes for the next three weeks. This week I'm focusing on pies.
Making and handling a gluten free pie dough can be a challenge, but my mother taught me a neat trick that allows transferring the rolled out dough to the pie plate without any tears every time! She rolls the dough between sheets of wax paper, peels off the top sheet, and uses the bottom sheet to hold the dough together during transfer. Works like a charm!
I use Bette Hagman's 4-flour mix from "The Gluten-Free Gourmet". It behaves as much like wheat dough as any mix I've encountered and has a nice flavor. Making the mix, gives you 3 cups of flour. You only need 1 cup for the pumpkin pie. The extra 2 cups would be just the right amount to make an apple pie (or any other pie with bottom and top crusts).
The filling is just a classic spiced pumpkin pie filling, made dairy free using almond milk (or rice milk or coconut milk beverage). So good my daughter requested a pumpkin pie in lieu of cake for her birthday this year! Need a dairy free whipped cream to go with your pumpkin pie? Check out this post, and happy baking!

Pumpkin Pie - Gluten Free Dairy Free
Ingredients
Crust:
1 cup of Bette Hagman's 4 flour mix: (2/3 cup Garfava or garbanzo bean flour, ⅓ cup sorghum flour, 1 cup cornstarch, 1 cup tapioca starch flour – makes 3 cups – save 2 cups for another use)
¼ tsp salt
1 tsp xanthan gum
¼ cup plus 2 Tbsp dairy free margarine such as Earth Balance or Smart Balance (Earth Balance has a soy free margarine if you need to avoid soy)
2-2 ½ Tbsp ice cold water
Filling:
¾ cup granulated sugar
1 tsp cinnamon
½ tsp salt
½ tsp ground ginger
¼ tsp ground cloves
¼ tsp ground nutmeg
2 large eggs
One 15 oz can pure pumpkin
8 oz almond milk (or rice milk or coconut milk beverage)
Instructions
Preheat oven to 425 degrees F.
For the dough:
In a large bowl mix the 4-flour mix well. Take out 2 cups and reserve for another use.
To the remaining cup of flour, mix in the salt and xanthan gum.
With a fork, cut in the margarine until well mixed.
Stir in 2 Tbsp cold water and knead the dough. If it seems too dry knead in the additional ½ Tbsp cold water. Dough should be pliable, but not too sticky.
Wet counter and put a sheet of wax paper down. Water will keep sheet from moving.
Pat half dough ball into a circle on wax paper.
Cover with another sheet wax paper and roll out a bit larger than your pie plate so that you have enough dough to go up the sides.
Peel off top waxed paper.
Pick up dough with wax paper and invert onto pie plate (or invert pie plate onto dough and then flip the 2 over together).
Carefully peel off wax paper and press dough into pie plate.
Fold under/crimp excess dough around edge.
For the filling:
Mix sugar through nutmeg in a bowl.
Beat eggs in a large mixing bowl.
Add pumpkin and mix.
Add sugar/spice mixture and mix.
Stir in almond milk (or other milk alternative).
Pour filling into crust.
Bake for 15 minutes.
Turn down oven temperature to 350 degrees F and bake about 50 more minutes until knife inserted in center comes out clean.
Cool on a wire rack for 2 hours. Serve or refrigerate.